Roy Hibbert on the Pacers losing the No. 1 seed: 'We don't deserve it'
The Pacers have fallen out of the top spot in the East for the first time this season and Roy Hibbert says they deserve it.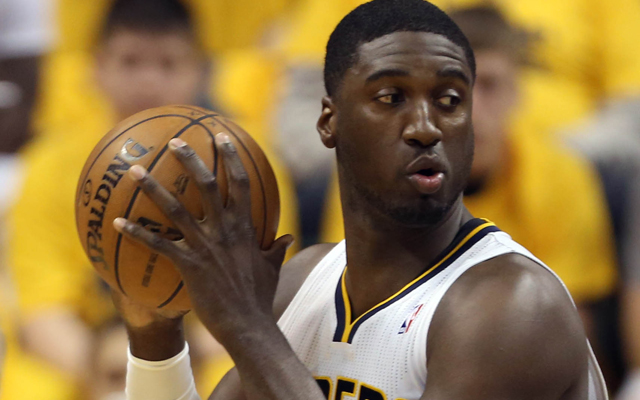 More NBA: Power Rankings | Expert Picks | Latest news & notes
The Pacers placed a high priority on getting the No. 1 seed in the East before the season. And throughout the campaign, right from the beginning, they played with that sense of urgency in mind. 
But after a 103-77 loss to the Spurs, dropping the Pacers to 12-11 since the All-Star break, they're now sitting in the No. 2 slot for the first time this season. How do you feel about that, Roy Hibbert?
"Good for them," Hibbert told reporters. "We don't deserve it."
Hibbert has never been shy about expressing his feelings saying after Sunday's dyfunctional loss to the Cavs that the Pacers have "some selfish dudes in here."
The Pacers have lost six of their last eight, cracking 90 points in just one of those games. They're a complete mess right now, struggling to find any kind of offensive rhythm while being unable to rely on their typically stingy defense. 
There's still time of course to sort things out and even though they're now No. 2 in the East based on percentage points, they're only one game behind in the loss column. And it's not like the Heat have stormed their way to the top spot. They're just 14-8 since the All-Star break themselves, with one of those losses coming to the Pacers last week. 
But the Pacers have placed importance on the top seed because of what happened in Game 7 of the Eastern Conference finals last postseason, with Miami dominating in front of its home crowd. The Pacers want that game in their building this time. But right now, like Hibbert said, they don't deserve it.
The Cavs jokes were out in full force after Golden State reportedly agreed to sign Antonius...

New York seems to be at the top of Irving's list of preferred destinations

Is it just a normal workout, or is LeBron continuing his recruiting efforts?
Chris Bosh answered on the spot about the LeBron James and Kyrie Irving situation

LeBron James is pitching free agents on Cleveland but the Cavs can't even reach Kyrie Irving...

Thanks to the Rockets, the Nets might be open to selling a controlling stake