Roy Hibbert says heckling fan 'woke me up' in Game 4
A heckler inspired Roy Hibbert's big second half on Sunday.
• 2 min read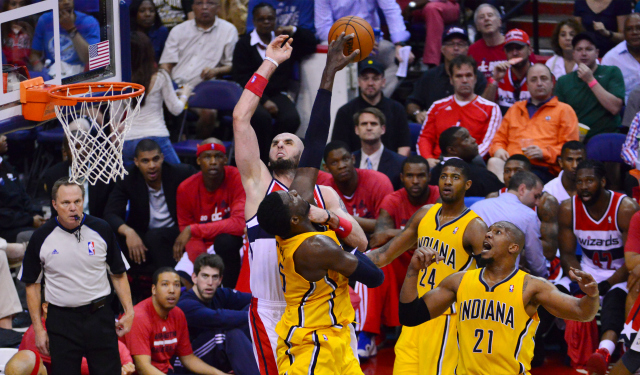 More postseason coverage: Playoff schedule, results | Latest news, notes
Roy Hibbert said it himself after his 28-point performance in Game 2: consistency hasn't been his best friend recently. The same can clearly be said about the Indiana Pacers. The wildly up-and-down team trailed 55-38 at halftime in Sunday's wacky Game 4, and Hibbert had only two points on 1-for-5 shooting.
In the second half, the Pacers stormed back for a 95-92 win and Hibbert was a big part of it. After the game he told reporters that a courtside heckler inspired him, via CSN Washington:
"He woke me up," Hibbert said in the Pacers locker room. "He said I was tired. He was saying a lot of obscenities. I'm a God fearing man so I'm not going into saying what he was saying…He got me going and I let him hear [me]."
Indiana was plus-24 in Hibbert's 21 second-half minutes, and he recorded 15 points, seven rebounds and two blocks in that time. Paul George was the best player on the floor, but having an effective Hibbert changed the game on both ends for the Pacers. And about that fan, here's what a couple of reporters saw: 
Not sure if the TV cameras caught this, but Lance + Hibbert barking at a Wizards fan in the front row.

— Zak Keefer (@zkeefer) May 12, 2014
Hibbert just went to the usher and (we think) suggested a fan get tossed. Roy's pretty pissed, Lance, too.

— Bob Kravitz (@bkravitz) May 12, 2014
This man tweeted at both reporters to identify himself as the fan in question, and showed the warning he received for his behavior:
Roy Hibbert just grabbed his crotch and told us to F*** off, then I got this card.Security says Hibbert will be fined pic.twitter.com/RtkuNl83zj

— Doug Cartwright (@Doug_Cartwright) May 12, 2014
There has been no indication that Hibbert will actually be fined, however, and there's a chance that fan wasn't the one Hibbert was referring to. Famous heckler Robin Ficker was in attendance, writing taunts on a whiteboard behind Indiana's bench:
Robin Ficker in front row behind Pacers bench with whiteboard. Appears to be taking fan requests. #wizards #wizpacers pic.twitter.com/QL0Y4ak6E6

— Ledell's Place (@LedellsPlace) May 12, 2014
At one point, Ficker wrote, "Hibbert comes up short" on the board. That might have been accurate in the first half. In the second, it definitely wasn't.
Irving has requested a trade away from the Cavaliers

The Lakers made a strong push for Rose, but he would have been a backup in Los Angeles

The small forward spent last season with the Sacramento Kings
Knight still has three years left on his five-year, $70 million contract

The Golden State forward is accused of assault, battery and making misleading statements

The Nets get their shooter a year later, and the Blazers reportedly will waive Nicholson