Royce White: Some people in the NBA 'want me gone'
On HuffPost Live, Houston Rockets forward Royce White said if he made an educated guess, he believes David Stern, the Rockets' organization and some owners want him out of the league.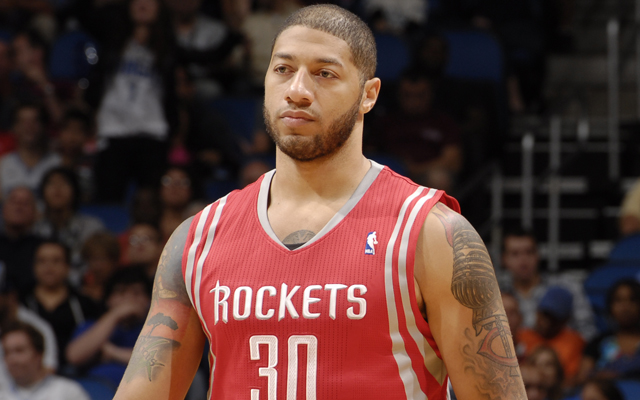 It has been a while since we heard anything about the Royce White situation with the Houston Rockets and their D-League affiliate, the Rio Grande Valley Vipers. After much debating, accusing and name-calling (mostly by White), the rookie forward finally accepted a D-League assignment to go develop with the Vipers so that he can get valuable experience to hopefully help him move toward contributing to the Rockets in the near future.
The fact that we hadn't heard from White was a good thing. It was a case of "no news is good news." With everything quiet on that front, it seemed like White was finally easing into his role as a professional basketball player and not having to deal with feeling like the Rockets weren't looking out for his mental health. 
Things probably won't be so quiet for the near future. Royce appeared on HuffPost Live with host Marc Lamont Hill. White told Hill that he believes people in the NBA -- including the commissioner, the commissioner-to-be and the Rockets -- probably want him gone:
If I was to make an educated guess, I would guess that Adam Silver and David Stern and the Rockets organization, some other owners in the league, GMs, want me gone. And why do they want me gone? Because business is about convenience, not about doing what's necessary. It's about cutting overhead, ... And a lot of times, what's best for us as human beings doesn't meet that criteria for business people.
You can view the video in the link above and see the context within everything that he's saying, just to avoid any confusion.
Even as an "educated guess," that's a pretty serious accusation to drop about Stern, his successor and the organization that has -- at least on the surface -- been extremely patient with the White situation, even as he was publicly flaming them on social media platforms and in interviews. Clearly, White's mental health and how he deals with his anxiety disorder, among other things, is the most important thing to him. He has been very clear and upfront about that from the get-go. 
However, comments like these come off to some people as paranoia and him playing the martyr, fair or not, because we've often only seen one side be consistently verbal about this situation. I would imagine these comments won't be taken lightly by those whom he named specifically, but we don't know if any kind of punishment would come or could come from the organization.
White has played 12 games for the D-League Vipers, averaging 9.6 points, 5.6 rebounds and 3.3 assists in 25.9 minutes. 
Based on Gentry's tongue-in-cheek price, Boston is highly unlikely to acquire the big man

Larry Hartstein is 22-11 in ATS picks for or against the Timberwolves and has a play for T...

First they were fragile, now they're dealing with 'rotation' challenges
You could say the Brazilian big man marches to the beat of his own drum

Rivers says Ariza called him to hash everything out following the heated skirmish between both...

Larry Hartstein has his finger on the pulse of Philly basketball and locked in his pick