Royce White vs. the Houston Rockets: Nobody wins
In the case of Royce White vs. the Houston Rockets, nobody is winning and it's becoming sadder by the day.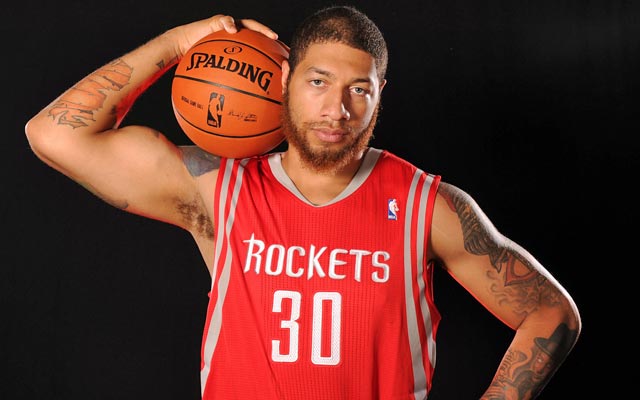 Rookie Royce White has taken his fight with the Rockets public.
(Getty Images)
In the case of Royce White vs. the Houston Rockets, nobody is winning and it's becoming sadder by the day.
As we all know, White is courageously and publicly confronting his personal battle with anxiety disorder. There is no good place in the workforce to do this, much less in the spotlight of being a professional athlete. White was absent from the early days of training camp while he, his representatives and the team tried to come up with a travel plan that would work for him. Among his symptoms, White is averse to flying.
Now, the tale of the Rockets trying to accommodate the medical needs of their first-round pick in the 2012 draft (16th overall) has taken a bad turn. White hasn't appeared in any of the Rockets' eight games this season and has been inactive for the past four. He's had several meetings with Rockets officials, who want him to seek counseling from Dr. Aaron Fink of Houston, while White prefers to continue seeing his own therapist, who has treated him for several years.
Sources say the Rockets are contemplating sending White to the D-League along with rookies Scott Machado and Donatas Motiejunas. But White has been absent from team's past two practices and Monday night's game against Miami. The Rockets reportedly are fining him every day he is absent from team functions or fails to attend sessions with the therapist the Rockets have arranged for him.
In other words, it's a mess, and one that has ramifications for the mental health of White -- who lest we forget is not just a basketball player but a human being worthy of compassion -- and his bosses, who are highly paid professionals responsible for forming a winning NBA team. Sadly, these competing goals could not be on more divergent paths. 
What is so disturbing now is that a series of disagreements that should have been handled personally has now become fodder for the social media grist mill, and that is White's doing. White is engaged in a two-day Twitter rampage in which he has spent some of the time raising awareness about mental illness and as much or more time bashing the Rockets. 
He is publicly calling the Rockets liars for saying he has been absent without leave, saying he has a medical excuse. He has repeatedly said he is not getting "consistency" or "support" from the Rockets, without being specific. He has referred to "misleading media" provided by his "employer."
"They have their media, this is mine," he tweeted.
He has called the Rockets "INCONSIDERATE," and referred to their efforts to help him as "laughable."
We could have a sober debate about whether it's fair for White to submit to treatment by the Rockets' appointed doctor. There are sound arguments to be made on both sides. On one hand, nobody is preventing White from seeing his personal therapist; the Rockets simply want him to be seen by their own, too, presumably to have a stake in his treatment and to ensure that it is tailored to the responsibilities that are incumbent upon a professional basketball player.
On the other hand, who in the workforce would be comfortable having his or her mental health treatment overseen by an employer? It has a big brother feel to it, and White's objections are understandable on that basis.
But while his objections are justified, his actions are not. I'm not a lawyer, but there are laws in the country that many lawyers are familiar with. My casual understanding of one of them, the Americans With Disabilities Act, requires employers to provide workers with disabilities with reasonable accommodations. Given how much the Rockets have invested in White -- a first-round draft pick, which is a considerable investment given that mistakes with such picks have led to those who made them being fired -- it is difficult to fathom that they would take unreasonable actions that would result in the failure of this particular employee to perform.
The team's efforts to make suitable travel accommodations for White and excuse him from work until he was satisfied seemed to signal a good-faith effort. Their desire to assign him to the D-League, while perhaps insulting, is within the team's rights under the collective bargaining agreement.
So while nobody -- least of all me, since I wrote this column about White's courageous struggle -- begrudges him the difficult and honorable role of raising awareness, he has crossed the line here. You cannot, in any work environment, publicly assail your employer on the internet if you disagree with how you're being treated. File a grievance, file a lawsuit, have your agent write a letter ... do anything but turn a private, difficult conflict into a public pinata for the world to see. 
There is protocol in any walk of life, especially professional sports, which is a cutthroat business that requires very specific guidelines and codes of conduct in order for everyone to function. Players can and can't be traded at certain times, can disagree with the referees but can't touch them, have a litany of contractual responsibilities they must live up to or face consequences, and on and on.
In its simplest form, it's the old "conduct detrimental to the team" clause. By launching public attacks against the Rockets -- tweet after tweet, non-stop, for two days -- White sadly has crossed that line.
Even sadder, he's made it nearly impossible for the people who are in a position to help him -- his agent, the National Basketball Players Association, and yes, the Rockets -- to do so. 
There have been high-level talks among union officials and White's representatives about how, if at all, they can defend him against the Rockets' decision to fine him, league sources said. But White's intransigence and social media barrage have made it painfully difficult for them to come to his aid.
All of this means that White, a talented athlete in need of help, has become increasingly isolated.
"Everybody wants to be on the 'we support, we want to help' wagon," White wrote on Twitter in perhaps the saddest moment of this ordeal. "But when they realize it's a TOUGH wagon to be on, they SLOWLY back away."
Here's hoping everyone quickly comes back together, though it doesn't look good. Not at all.
Not many games, but still plenty of action and intrigue Sunday in the Association

An old rivalry is reignited between LeBron James and the Cavaliers and John Wall and the W...

SportsLine's Mike McClure, a DFS pro with more than $1M in winnings, gives optimal lineup...
LeBron had 29 points, 11 rebounds, and 10 assists in the Cavs' 109-100 win over the Jazz

The montage showed Carmelo's best Knicks moments before playing the Thunder game

KCP can't leave California for 25 days due to the terms of his pleading guilty to a misdemeanor...