Rudy Fernandez ends time in NBA, signs with Real Madrid
Rudy Fernandez announces he'll return to Spain to play for Real Madrid.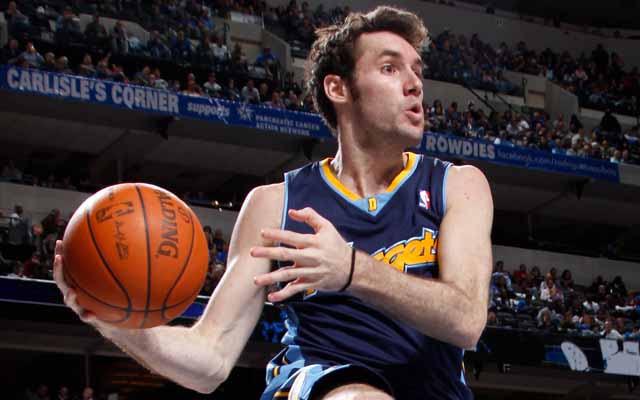 Rudy Fernandez has gone back to Europe.
(Getty Images)
And so the great Rudy Fernandez experience ends. 
Like Juan Carlos Navarro and countless players before him, Rudy Fernandez, after just a handful of years in the NBA, has left the greatest basketball league in the world, to return home and play where he is most comfortable. Fernandez, who played last season with the Nuggets after a series of trades sent him from Portland to Dallas to Denver, announced on Twitter Tuesday that he had signed a three-year deal with Real Madrid in his native Spain. 
Mañana s confirma mi fichaje por el Real Madrid por 3 temporadas!! Muy feliz de volver!! Ya os contare pq he tomado esta decision!! Abrazo

— Rudy Fernandez (@rudy5fernandez) July 3, 2012
Thus ends the hope for Rudy in America. As Yahoo's Ball Don't Lie notes, Fernandez entered the league with lofty expectations as a great European import, but never lived up to the hype after a promising first few months: 
That was essentially the peak of his career, though, because soon after he developed back problems, didn't get along totally well with Nate McMillan, and eventually found his way to the Denver Nuggets. Fernandez was a useful player for George Karl and the deep Nuggets, but he never looked capable of breaking out and becoming a star like he once had. That's no great shame — plenty of intriguing prospects have perfectly good careers without reaching their potential. Yet Fernandez promised to be a different kind of star from overseas, a wing with athleticism, skill, and style. We saw flashes, but we never what we'd hoped for.
via Rudy Fernandez is bound for Spain after four NBA seasons | Ball Don't Lie - Yahoo! Sports.
If you want to know the perfect encapsulation of Fernandez' career, here's a little look in: 

Yeah, he stuck it. But it took him 700 times and the number of botches takes away from it. And that's Fernandez' NBA career. 
It's a shame, because Fernandez was legitimately playing very well for Denver last year. He was a sparkplug off the bench and made a series of spectacular plays. But again, injuries forced him out for the playoffs. Fernandez had made noise about returning to Spain after the 2011 season before a trade to then-champion Dallas and subsequently Denver abated his concerns to have him play out his contract. 
But that's it for Fernandez, and we'll have to add him to the list of players who came with tremendous expectations and was always happier in his native league. Don't feel bad for Fernandez, he's a legend going back to being a star. Feel bad that the magic never clicked in the NBA for Fernandez. 
Hayward is expected to make a full recovery, but don't expect to see him on the court this...

Well, Suns fans ... it can only go up from here

Teague no longer plays the game, however, because he's mad about his rating
Our NBA scribes break down what we've learned from the first two nights

Imagine if the Orlando rookie ripped off his warmups and stepped on to the court topless

After Brett Brown said his star would likely play somewhere in the teens, Embiid logged 26...