Rudy Gay says his vision was 'terrible' so he had eye surgery
Rudy Gay said his vision was so bad he could barely get his driver's license. I'm pretty sure you need to see to be able to shoot a ball.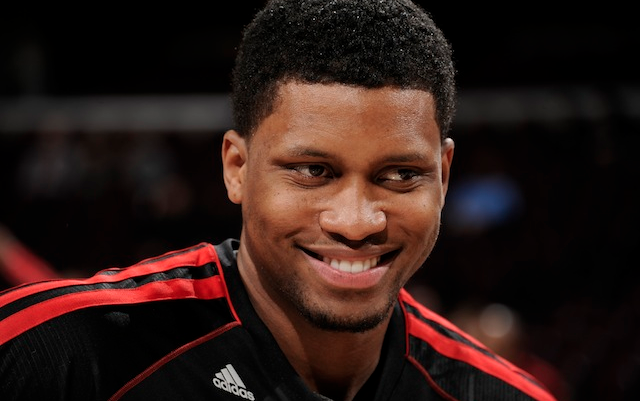 Basketball pro-tip: Being able to see the basket is helpful in shooting the ball well. 
Which might've been the problem last season for Rudy Gay, who did not shoot it very well in Memphis and Toronto. 
Via SLAM, Gay said he's had offseason eye surgery to help correct his vision, something he called "terrible."
"I did have vision problems," Gay confesses, sitting up on the trainer's table after Gray finishes stretching out his muscles. "Actually, it was terrible. I could hardly get my license." The National Post reported that he refused to wear the contact lenses he desperately needed, which was correct: "I have a stigma about that stuff — I can't put anything up my nose and I can't touch my eyes. I think that just comes from me growing up seeing people on drugs — I got over my stigma of needles, but I couldn't do any of that other stuff. I couldn't wear contacts. I wore glasses, sometimes."

Gay finally had the operation to clear up his sight early this summer. "It wasn't even a regular operation," he explains. "It was some kind of crazy operation that took a lot more time to heal than I thought. It sucked. They had to patch it up [after], and I had to take eye drops, all stuff that I hated. But I had to do it. It's crazy because as much work as I'm putting in working on my shot, if I come back shooting [a better] percent from the three-point line, everybody's gonna say it's 'cause of my vision, not the hard work I'm putting in."
As Gay says, maybe it was his eyes, maybe not. Last season he shot a career-low 40.8 percent from the floor and just 31 percent from 3, also a career low. Gay notoriously prefers to take long 2-pointers, which is not a very good shot, and hit only 27 percent from 16-23 feet last season. Is that because he couldn't see the rim, or because he's just not a very good jumpshooter that takes low percentage shots?
Gay is a quality NBA scorer and has proven it the last eight seasons. He's never been all that efficient, but when he gets it going, he's as tough a cover as there is in the league. 
Gay has required contact lenses for a few years, but hated wearing them. So he considered wearing goggles at one point, but couldn't ever get comfortable with them either. Instead, he just played halfway blind, which doesn't seem all that wise considering the precision required to throw the basketball through the hoop. To each his own, I suppose. 
Either way, Gay has his eyes fixed now and it could make a difference for him this season. Or it could be the fact, as he says, that he's putting in extra work to improve his perimeter jumper. He's already worried a bit about how potential future credit is bestowed to him, feeling there will be a rush to hat tip his eye surgery and not his hard work. I can understand that preemptive frustration, but the point of the game is to make the ball go through the net as often as possible and if it's the hard work or the eye surgery, it's just about doing it better than he has. 
We've got you covered for all the scores and highlights from Sunday's NBA games

The Cavs superstar compared Kaepernick to Martin Luther King Jr. and Muhammad Ali

The Warriors coach isn't surprised that the president and LaVar Ball are in a war of words
Kyle Kuzma is tired of how his teammate Lonzo Ball is being treated

The Warriors used a huge third quarter to come back from a 23-point deficit to get the win

Three takeaways from Golden State's 24-point rally past the Sixers