Rudy Gay, Tayshaun Prince set to debut for new teams Friday night
Rudy Gay, Tayshaun Prince, Ed Davis and Austin Daye will all be in uniforms for new teams Friday.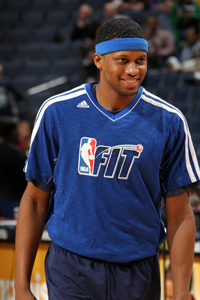 Gay is expected to play against the Clippers on Friday night. 
(Getty Images)
SI.com reports that Rudy Gay will play in Toronto on Friday night vs. the Clippers. Gay reportedly was not set to join the team until Sunday. Meanwhile, Tayshaun Prince, Austin Daye, and Ed Davis are all cleared to play Friday for Memphis. Jose Calderon is not expected to play yet for Detroit. 
These games are always weird because there's a level of excitement for the new guys, but the new players are still trying to learn what the team does. Even if the offensive scheme isn't that complicated (and it's not in Memphis), there are things like pick-and-roll coverage, team defense and how the coach wants to use them differently than they've been used in the past. 
So it will likely be mixed results if the players do play extended minutes. The Grizzlies in particular need their guys to play because they're down to very few usable players on a back-to-back after getting drubbed in OKC on Thursday. 
The big question with Toronto will be what the lineups will be, and if Dwane Casey will use Gay as a power forward. For Memphis, it's how many minutes Ed Davis gets and how Tayshaun Prince fits in Memphis' sets. 
New eras begin in two cities Friday night. 
Kidd was fired by the Bucks on Monday afternoon

We've got all the scores, highlights and news from an NBA Monday

Leonard was recently shut down again to rehab the nagging quad injury
Durant, who joined the Warriors, says that Capela, the league's most efficient player, has...

Jason Kidd's firing gets the celebratory balloon treatment on Milwaukee's Twitter page

Milwaukee has parted ways with its coach in the middle of his fourth season