Rumor: 76ers have mulled trading Carter-Williams to draft Exum
Philadelphia rumored to consider the idea of trading the Rookie of the Year to draft the tall Australian point guard.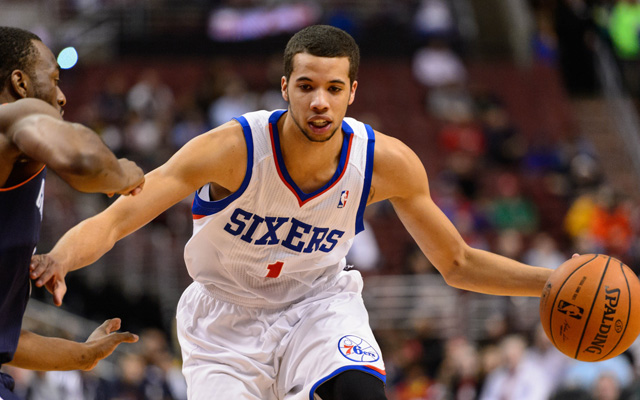 More Draft:  Mock drafts | Draft news
ESPN reports that the Philadelphia 76ers have "bounced around" the idea of trading Rookie of the Year point guard Michael Carter-Williams because of their fascination with tantalizing point guard prospect Dante Exum. 
The Philadelphia 76ers are Exum fans as well, and if Wiggins is off the board, Exum will be in the mix. They think Exum and Carter-Williams could play together in the backcourt, although it would not be a very good shooting tandem. I think the more obvious fit comes if they trade Carter-Williams, an idea I'm told they have bounced around.
via 2014 NBA Draft - Taking a closer look at Dante Exum - ESPN.
Trading the Rookie of the Year is kind of a crazy idea, but when you consider Carter-Williams' shooting limitations and the fact that this rookie class was downright wretched, plus Exum's considerable upside, it makes a little more sense. 
Still, a better idea might be to draft Exum and play he and MCW in a dual-combo-guard lineup. Exum's offensive skill could combine with MCW's athleticism for a strong combo. Exum's shooting strength is a matter of debate, ranging from "great" to "kind of a question mark" and there's just not enough video or data on Exum to know how he shakes out.
But putting MCW on the market could bring in more assets, which the Sixer are always interested in. The biggest takeaway from this rumor? 
The Big 3 of Joel Embiid, Andrew Wiggins, and Jabari Parker is starting to expand with Dante Exum and Noah Vonleh gaining traction as potential top 3-4 picks. 
Stephen Curry, who grew up in North Carolina, wants to be part of the next Panthers ownership...

Vince Carter is destined for a Raptors reunion; he doesn't know when it'll happen

Thomas has a target date for his return, and with the Cavaliers scorching, this could be h...
LeBron James once again is using his platform to be socially active

Not many games, but still plenty of action and intrigue Sunday in the Association

Kobe Bryant had a solid piece of advice for back in 2016 when he left OKC for Golden State