Rumor: Celtics shopping veteran players
The Celtics are trying to unload their veteran contracts, according to a report.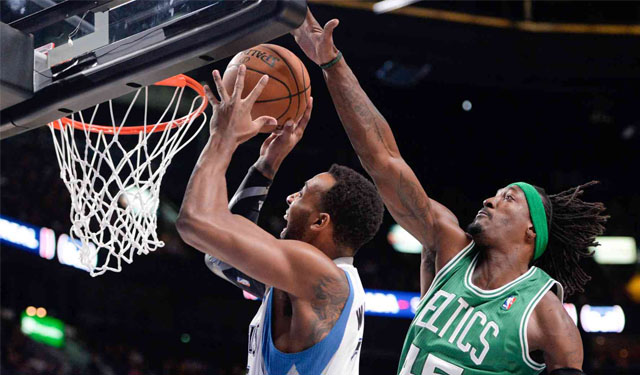 Anyone want Kris Humphries? Gerald Wallace and his $30 million contract? Anyone? 
Well, apparently they're available, according to the Boston Herald:
We've written here before that despite the lack of interest in trading Rondo — unless they get the proverbial offer they can't refuse — the Celtics are still active in the market. Sources continue to say they'd love to move some veteran contracts (think Kris Humphries, Gerald Wallace) to put them in a better position vis-a-vis the salary cap.
The Celtics are clearly in rebuild mode and while it appears the chatter of trading Rajon Rondo has simmered a bit, the Celtics absolutely should have interest in trying to move Humphries and Wallace. Neither appear to fit into Boston's long-term plan, and both have certain value on the trade market. Humphries is a serviceable big on an expiring contract, so maybe you pull a first-rounder for him. Wallace, in the right situation, is still a capable forward who can defend and play multiple positions for a contender. 
The Celtics are right up against the luxury tax threshold and probably have their eye on getting entirely under the salary cap. Trim Humphries' $12 million owed this season and Wallace's $10.1 million, and that's all Boston would need to get under the cap and open up a lot more possibilities.
Thing is, they're going to have to find very specific trade partners to make a deal so that they're not returning salary on the other end. Or maybe the plan is to package Humphries and Wallace together to bring back two expirings to get under the cap this summer and unload Wallace's bloated contract. 
Either way, the Celtics are assuredly shopping them and given the right taker, will probably be major players at the deadline. 
Wade is having a rough start to his first season playing in Cleveland

Greek Freak scores career-high 44 points and reaches scary level to finish the game

It was an ugly finish as the Warriors fell to 1-2 on the season -- both Curry and Kevin Durant...
Mirotic was hospitalized with facial fractures after an altercation with Portis during pra...

Irving had some choice words for a fan who heckled him in Philadelphia

Several teams were reportedly interested in Nelson after he was waived by the Nuggets