Rumor: Clippers, Heat have expressed interest in Andrew Bynum
Once Andrew Bynum clears waivers and is a free agent, we could see the Los Angeles Clippers and Miami Heat attempt to sign him for a playoff run.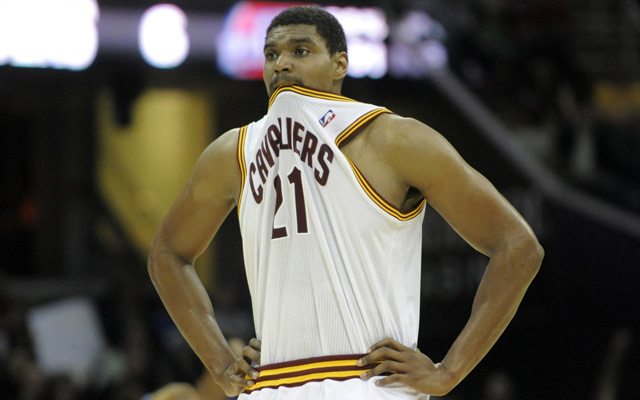 With Andrew Bynum finally being waived before his 2013-14 contract became fully guaranteed, he's bound to garner some interest on the free agent market once he clears waivers. The natural places to start looking for possible suitors is contending hopefuls that need some help in the middle, assuming Bynum can actually be healthy enough to contribute during the playoffs. 
The Miami Heat and Los Angeles Clippers fit the criteria for expected suitors for Bynum's services. According to Bob Finnan of the News-Herald, the Heat and Clippers will attempt to sign Bynum when he clears waivers and wonders if the Indiana Pacers may go after the center to block him from the Heat.
Sources think Heat and Clippers will go hard to sign C Andrew Bynum. Here's a team from left field: Indiana, just to keep him from Miami

— Bob Finnan (@BobCavsinsider) January 8, 2014
This is all assuming Bynum can actually be healthy enough to consistently contribute to a playoff run, of course. He's struggled to be on the court over the last two seasons, missing the entire 2012-13 season when he was with the Philadelphia 76ers. Bynum played in 24 games this season, averaging 8.4 points and 5.3 rebounds in 20.0 minutes. He made just 41.9 percent of his field goals.
The Heat didn't release anybody from their roster before the 5pm ET deadline that guarantees non fully guaranteed contracts for the 2013-14 season, meaning they still have 15 players on the roster. The only realistic one-year contract candidates they could release to make room for Bynum would be James Jones, Michael Beasley, Roger Mason, or Greg Oden. Mason would likely be the top candidate of those four if the Heat decided they needed Bynum and he wanted to be in Miami.
For the Clippers, they've desperately needed big men depth on their roster this season and it looks to be a problem for the team when it comes to the postseason. They've gotten by with Ryan Hollins, Byron Mullens, and Antawn Jamison as their big men off the bench, but that's unlikely to hold up during the playoffs. They currently have 13 men under contract but are expected to sign another point guard after releasing Maalik Wayns. They could re-sign Wayns to a 10-day deal.
Jordan Bell had himself a night against Portland

The younger Ball brothers are heading to BC Prienai, but that could spell trouble

Not many games, but still plenty of action and intrigue Monday in the Association
SportsLine's advanced computer model simulated Tuesday night's Lakers-Knicks game 10,000 t...

The Reno Aces are concerned about the new WNBA franchise stealing their thunder

Hinkie parted ways with the 76ers in 2016 after drastically changing the direction of the...