Rumor: Derrick Rose unhappy with Bulls' rebuilding plans
Derrick Rose doesn't want the Bulls to blow up the core of Luol Deng and Carlos Boozer, even as he recovers from knee surgery.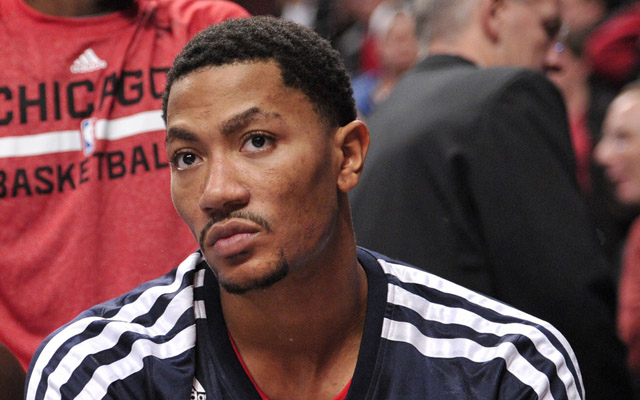 The New York Daily News reports that Bulls guard Derrick Rose is concerned about rumors his team could be looking at a major realignment of the team's roster, according to those close to him.
Rose has told several confidantes that he is worried that the Bulls will start to let the team hit the skids by allowing key players to leave via free agency, forcing him to go through a rebuilding program that he wants no part of.

"Derrick is worried that the Bulls are going to lose what they have," said a league source. "He doesn't want to go through rebuilding."
via Injured Bulls star Derrick Rose is fearful Chicago's cupboard will soon be bare - NY Daily News.
The team was unable to come to an agreement on an extension with forward Luol Deng, who will be an unrestricted free agent this summer. Deng is reporteldy unhappy with how the situation was left unresolved. Carlos Boozer is at the end of the massive deal he signed in 2010, and will be an expiring $16.8 million contract next year. Boozer is considered a prime target for either trade or the amnesty provision the Bulls have yet to use. 
The Bulls' thinking seems to be less about a rebuild and more about a confidence in the players they do have and the ability to sign a new core to support Rose when he comes back from his second knee surgery in two years. Jimmy Butler seems to fill most of Deng's role on both sides of the ball (though he needs to improve as a ball-handler and shot creator), Taj Gibson is often used in crunch time over Boozer anyway, and the Bulls' hold the rights to both Nikola Mirotic, considered to be the best Euro prospect out there, and the Bobcats' top-12 protected draft pick this year. 
That makes for a pretty quick reload. Additionally, it's hard to fault the Bulls for wanting to lower salary when they have no idea when or if Rose will be back after suffering another severe knee injury. There's also the fact that the Bulls still have options. They can bring the band back for another run, re-signing Deng and keeping Boozer. Nothing has been done nor decided, as far as we know. 
There's uncertainty surrounding Deng, Boozer, even coach Tom Thibodeau who has been rumored to be linked as a possible replacement for Mike Woodson should the Knicks coach not survive this season. Rose carries a lot of weight as the franchise, but they have to look at the whole picture. Rose has said in the past he won't recruit players to play in Chicago. It's tough to say you don't want a hand in pesonnel decisions and then object behind the scenes, if the report is true. 
Mike McClure, a DFS pro with more than $1M in winnings, gives optimal DraftKings and FanDuel...

Iggy is focused on giving back to the Boys and Girls Club as he is with his Silicon Valley...

Ball missed much of the preseason after injuring his ankle against the Nuggets on Oct. 2
The Warriors are coming into the season with overwhelming championship odds

The best player in the world has a chance to make an important statement -- and kneel

The Cavs begin their defense of the Eastern Conference against the new-look Celtics