Rumor: Don't rule out Knicks chasing Tom Thibodeau as next coach
Are the New York Knicks eyeing Tom Thibodeau as their next coach even though he's under contract with the Chicago Bulls for the next few years?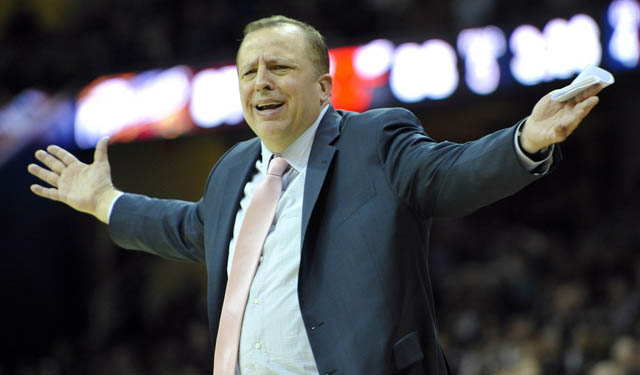 The New York Knicks' culture isn't ideal right now. From James Dolan down to the product on the court, the Knicks seem to be a complete laughing stock in NBA circles right now. They can't get consistent play, there is confusion on whether or not the front office has much say or power, and Dolan seems to outdo himself with hilarious power trips on a monthly basis. The Knicks need a change in how they do business from the front office down to the floor.
Marc Stein of ESPN.com wrote Wednesday that going after Tom Thibodeau may be the long-term plan for the Knicks when they're done employing Mike Woodson. There would be a lot of complications, including whether or not Thibodeau is even interested in going from Chicago to New York, in the way of completing such a power move by Dolan and the front office, but that doesn't mean they may not try.
My sense from the latest coaching scuttle is that Woodson, even if he survives the crisis at hand, is only going to last until Dolan can find a bigger, splashier name to take over. The belief here is that the Knicks' impresario, given his lack of draft and trade assets to make impactful changes to the talent, ultimately wants a superstar coach as much as he wants to re-sign Melo come July. Which is where Thibodeau comes in. 

Extricating Thibodeau from his Bulls contract in the coming offseason would by no means be easy. The Bulls, as we know them now, wouldn't be the Bulls without him. And Thibodeau, obviously, would have to want to leave Chicago for New York. 

But I, for one, like the Knicks' chances there better than their ability to land any of the other big names on Dolan's presumed wish list. Dismiss the scuttle if you wish, but I'm buying it. 
There are a couple issues with this possibility. First, Tom Thibodeau finalized a four-year contract extension back in April of this year. He probably wants to stay in Chicago and a guy with a handful of years left under contract with a team makes it hard to hire that guy if you're another organization. This past summer, we saw Doc Rivers find a way to the Clippers even though he had several years left on his contract. The Clippers traded a first round draft pick in exchange for the championship coach.
That's where the next problem comes in. The Knicks don't really have any assets to trade to the Bulls to get this deal done. They don't have a first round draft pick they can trade until 2018. If they were allowed by the league to move a player in exchange for the coach, would Iman Shumpert be enough of a valued trade piece to complete such a deal? Would he even fit the next identity of the team with Thibodeau leaving? How do they offer Chicago anything other than saving money on their coaching position?
It seems far too complicated to get done but some said that about Rivers going to the Clippers this summer. Perhaps, it's something to keep an eye on heading into the summer.
Miami is on Irving's list, but this package still wouldn't be enough to get a deal done

Some teams want to fight the Warriors, others want to 'fight' for the right to draft Michael...

Oklahoma City has reportedly offered the MVP a five-year extension worth over $200 million
The big man was a big part of the Warriors' championship run last season

The Cavs jokes were out in full force after Golden State reportedly agreed to sign Antonius...

New York seems to be at the top of Irving's list of preferred destinations