Rumor: Grizzlies discussing extension with Ed Davis
Memphis forward coming up on post-rookie-deal extension after being traded from Toronto in the Rudy Gay trade.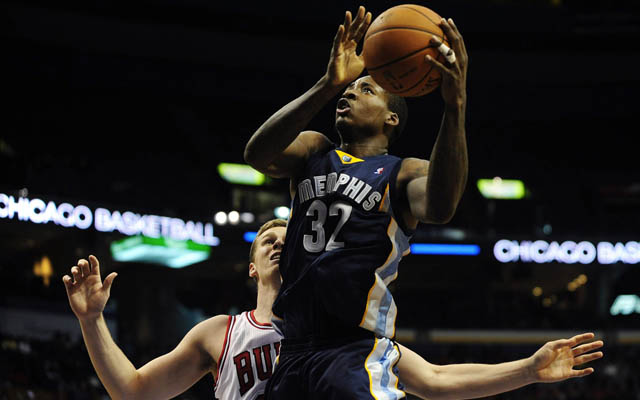 ESPN reports that the Grizzlies are set to extend forward Ed Davis off his rookie contract before the October 31st deadline. 
The Grizzlies' Davis ranks as the sleeper of this extension class after he was barely used by former Memphis coach Lionel Hollins upon arriving in Memphis in late January in the Rudy Gay trade. Extensions are historically rare for role players, but Davis is regarded in some corners as the heir to Zach Randolph's frontcourt spot alongside Marc Gasol, with Z-Bo down to this season and next season's $16.9 million option left on his contract at 32. Though it remains to be seen if negotiations progress to the serious stage, sources say that Davis' camp and the Grizzlies have been discussing a deal this month.
via NBA: Deadline nears from Class of 2010 extensions - ESPN.
The Grizzlies are extremely high on Davis. He was the real gem of the Rudy Gay trade for them, not Tayshaun Prince. He's a high-production forward with good muscle, interior production, and great athleticism. In the Grizzlies' defensive scheme, he can be tremendous. 
Maybe the smartest part about this is that with him behind Randolph, and with him not having had a breakout year, they can likely get him back for a better value than what he'd make in restricted free agency if he had a big season.
Davis struggled to get playing time last season despite widespread support from the locker room about his talent due to inexperience and a percived anger from then-coach Lionel Hollins about the Rudy Gay trade. Hollins said that his issue with Davis was simply trying to get him to learn winning habits after being in Toronto. The Grizzlies chose not to re-sign Hollins this summer and promoted Dave Joerger to head coach. 
The former Clipper apparently had some tricks up his sleeve after a chippy game

The Rockets were apparently looking for Austin Rivers and Blake Griffin after a chippy gam...

If they don't meet in the Finals again, let's appreciate every one of the 27 matchups since...
D-Wade picked up the steal and got creative on the fast break as the Cavs headed into half...

Despite the embarrassing hiccup, the youngest Ball had himself a pretty great day on the c...

The players were both ejected in the closing seconds, then continued their discussion off the...