Rumor: If Frank Vogel is fired, Mark Jackson could replace him
Indiana Pacers' coach Frank Vogel may be on the hot seat and if he's fired, the rumor is Mark Jackson could replace him.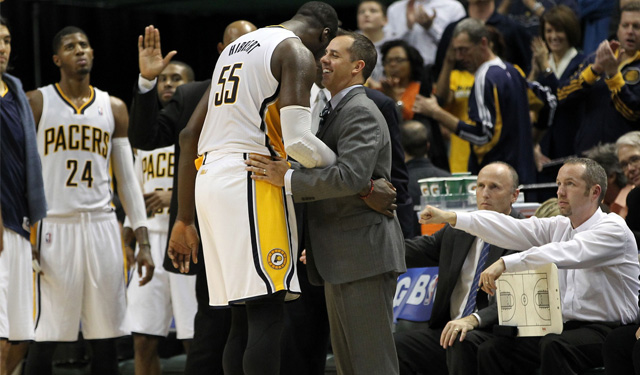 More postseason coverage: Playoff schedule, results | Latest news, notes
The Indiana Pacers' tumultuous season is finally over after losing in six games to the Miami Heat in the Eastern Conference finals. In a season of ups and more downs than expected, the Pacers were tested by opponents and by their own inner turmoil when the bottom fell out of their title contending mentality halfway through the season. From that point on, they were scrutinized, picked apart, and rumored to be looking to possibly replace players or coaches.
While it's not known if Frank Vogel's coaching job is on the hot seat or not, the whispers about ousting him in favor of a former player are already starting to get louder. Vogel's job was in question when the 1-seed Pacers nearly lost in their opening round series to the Atlanta Hawks. He and his team survived until the conference finals but that doesn't mean he'll survive the offseason if Larry Bird believes Mark Jackson could turn them into actual title contenders. From ESPN.com's Marc Stein:
Yet there's no escaping the fact that Vogel was awarded his current extension -- which runs through the 2015-16 season -- when team president Larry Bird was on a one-year hiatus. The fact Bird openly questioned Vogel's player-friendly approach during the regular season has only added volume to the belief that Vogel's seat is warming. That he's not stern enough for Bird's liking. 


And there's more. 

The whispers have already started in Indy about Bird turning to his old point guard, Mark Jackson, to take over. Jackson and Reggie Miller were the leaders when Bird was the Pacers' coach ... and Bird isn't the only big fan in the organization of the man Golden State just ousted. Fellow Pacers exec Donnie Walsh is another huge admirer who has long maintained privately that he wouldn't consider Jackson for the Indy job unless he had coached somewhere else first. 

But that's a box Jackson obviously can check now. 
It's hard to argue that Mark Jackson is a better X's and O's coach than Frank Vogel, but if you believe this team's biggest problem is motivation and a mental stability issue, then maybe Jackson is the right guy for the job. Vogel has helped foster a great defensive-minded culture in Indianapolis, but once the team was met with real expectations for the first time since Ron Artest was in this uniform, they started to crumble halfway through the season, even as the best team in the association. Would Jackson fix that?
The Pacers still need to get a playmaker on the roster and a better offensive system -- or at least one they can stick to in the face of adversity -- would be big boosts to the team. Jackson's offense in Golden State was a lot more basic and inefficient than most people assumed it would and should be, but the team success was very solid in his last two seasons there. If he could keep the Pacers as good as they are now on the court while improving their team psyche, it would make such a coaching change worth it.
But you have to ask yourself whether or not the problems the Pacers faced were more on the coach or the roster constructed.
Based on Gentry's tongue-in-cheek price, Boston is highly unlikely to acquire the big man

Larry Hartstein is 22-11 in ATS picks for or against the Timberwolves and has a play for T...

First they were fragile, now they're dealing with 'rotation' challenges
You could say the Brazilian big man marches to the beat of his own drum

Rivers says Ariza called him to hash everything out following the heated skirmish between both...

Larry Hartstein has his finger on the pulse of Philly basketball and locked in his pick