Rumor: Joakim Noah made pitch to Carmelo Anthony to join Bulls
Joakim Noah reportedly made a pitch to Carmelo Anthony during the All-Star weekend to join the Chicago Bulls this summer.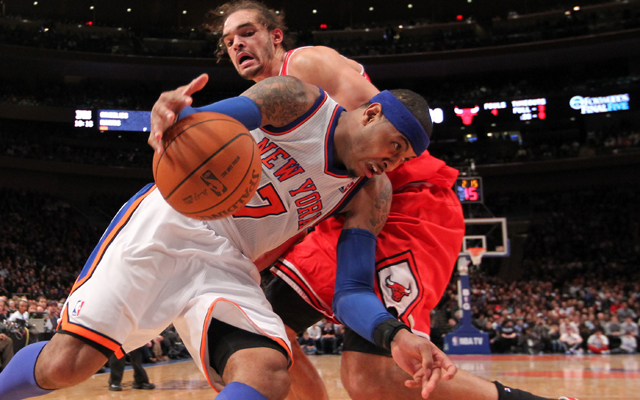 Free-agency pitches aren't supposed to happen before July 1 each season, but that's not how it happens. Players are constantly talking to each other throughout a season and sometimes that talk turns toward someday playing with each other. With Carmelo Anthony's impending free agency this summer, the perfect time to hit him up is an event like All-Star weekend when you have so many of the top players gathering in one area.
According to Chris Broussard of ESPN.com, this is exactly what happened with Anthony and Chicago Bulls' center Joakim Noah. Noah reportedly pitched Anthony on joining the Bulls this summer if he's serious about playing for a championship. 
Joakim Noah wants to win a ring. To help him achieve that goal, he wants Carmelo Anthony on the Chicago Bulls.

That's why Noah, Chicago's center, approached Anthony over All-Star Weekend last month about joining the Bulls, according to sources with knowledge of the conversation.

The sources said Noah told Anthony something to this effect: You can go to Los Angeles, but if you really want a ring, if you really want your legacy to be about winning, you should come to Chicago.

Anthony responded by telling Noah that he admires how hard the Bulls play and how hungry they are. Anthony also told Noah, according to the sources, that Derrick Roseis his son's favorite player.

Sources said Rose also wants the Bulls to add Anthony and would be willing to help recruit him if he is asked to do so.
Perhaps the most interesting part about these alleged rumors being passed around regarding this situation is Derrick Rose possibly being interested in helping recruit Anthony to the Bulls. The Bulls will be losing Carlos Boozer in the next year or so as his contract expires in 2015 (or he can be amnestied this summer) and with Luol Deng traded to the Cleveland Cavaliers, they could use a third All-Star caliber player on the roster for their future.
Rose has been on record saying he would "never" recruit players to Chicago to form a super team. He believes he can play with anybody. I guess two major, season-ending knee surgeries later it's not quite that simple for the former MVP. Rose has needed a secondary scorer to help him on offense since the Bulls became contenders in 2011 but they've never been able to put a true scorer next to him. Anthony would certainly fit that ideal scorer to help Rose out.
The key then would be getting Anthony to fit in the Bulls' defense first team concept. If anybody can do it, it's probably Tom Thibodeau who seems to command the respect and effort of every player who comes through the United Center. But the Bulls would still have to figure out how to get Anthony to Chicago this summer. 
Amnestying Boozer would put them somewhere around $15 million under the salary cap, assuming cap goes up a few million like many have projected. Anthony said during the All-Star weekend that he'd be willing to take a pay cut in free agency to ensure he's on a winner, but is he really going to cut his prospective earning in half by taking a salary like that from the Bulls? Had Noah already started pitching him when he made these comments and so it was fresh in his mind? Were these comments part of a conspiracy to get Anthony to Chicago? (Cue villainous, plot twist music)
Or would the Bulls and Knicks need to agree to a sign-and-trade to make the deal happen? The Bulls have Charlotte's first round pick this year and could offer up a valuable rookie taken in the middle of a supposedly loaded first round. They could also offer up a future protected pick, the rights to Nikola Mirotic, and maybe Jimmy Butler in some combination to put together a trade package for the Knicks.
The former Slam Dunk Contest champion will take his talents to Tri-State

Do NBA players have look-a-likes from famous paintings? We found out on the new Arts & Culture...

Larry Hartstein is on quite a run in picks involving the Suns and the Trail Blazers
Rodman's agent says he is urging the ex-NBA star to check into rehab

The players and referees are working to fix a relationship that has recently been deterior...

The locker room heist is going to lead to plenty of fines and maybe some suspensions from the...