Rumor: Knicks owner James Dolan gives his CD to free agents
New York Knicks owner James Dolan is rumored to pass out copies of his band's CD to prospective free agents.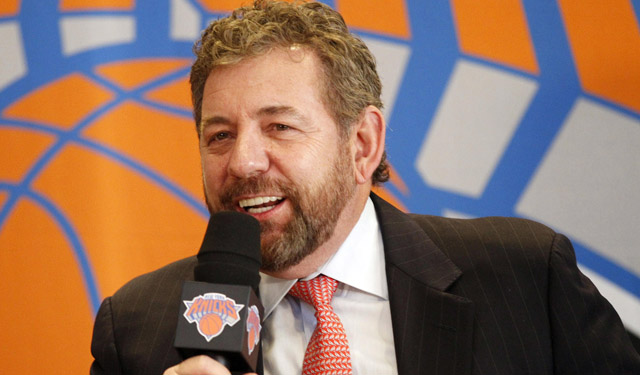 The New York Knicks struck out in the free agency market in 2010. While they ended up with Amar'e Stoudemire, who looked great before some knee issues resurfaced, their main target was bringing LeBron James to the organization. While it's not known why James decided against raising the Knicks from being a laughing stock in the NBA, we may be able to pinpoint a possible gift from owner James Dolan that possibly showed this team to not be the one for LeBron.
According to Adrian Wojnarowski of Yahoo Sports, Dolan has been known to pass out CDs of his band JD and the Straight Shot to free agent targets. It was a way to put a little icing on the presentation cake, as Dolan apparently gave it to players when they left the room. It's a very weird and disconnected way to try to push your presentation over the top and convince a player to come sign with your team.
When New York Knicks executives chased free agents in the summer of 2010, owner James Dolan made himself a part of the presentations. He isn't the most engaging, enchanting man, but Dolan does fancy himself a musician. So, yes, there were player and agent meetings four years ago when Dolan delivered a parting gift on the way out of the room.

"He passed out copies of his CD," said a source, who stuffed his copy of one into a bag and no longer remembers where it's gone.

It featured the melodies of JD and the Straight Shot, Dolan's corner-bar band that bought itself into the opening act on tour with the Eagles. Dolan's world revolves around the Eagles, and no one has helped meld his fantasy camp/groupie life of bad teams and super groups more gloriously than notorious ball-busting Eagles business manager Irving Azoff.
It would have been easier for Dolan to just not be a part of the presentation, considering his reputation for not being the most charming owner in the NBA. He's a bit awkward, which is punctuated by giving out a CD attempting a blues sound to young players. But you also can't convince the best player in the world to come play for your organization if you're trying to hide the owner from the entire process. 
I wonder if he played his song "Fix the Knicks" to free agents during the presentation. No seriously, he has a song called "Fix the Knicks."
Here's a little taste of JD and the Straight Shot:
I can't imagine why LeBron didn't want to be a part of this franchise in 2010.
The Pistons put out a long list of details regarding their new uniforms

The Pacers traded the forward to OKC for two former lottery picks who have yet to reach their...

Gilbert said what was expected, but didn't necessarily sound all that confident
Altman addressed the media about Irving during his introductory news conference

Toronto's center has an uncertain future; can we still talk about this 25-year-old's poten...

Oakley was vague with his response on when he'd attend another Knicks home game