Rumor: Knicks trying to get involved in Omer Asik talks
According to a report, the Knicks are attempting to get in the Omer Asik trade sweepstakes. Except, you know, the Rockets have to want something they have.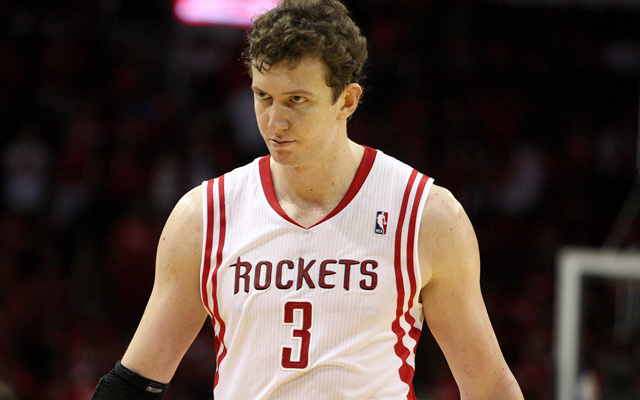 The Knicks want in on the Omer Asik sweepstakes. Which makes a lot of sense, because they're painfully thin inside and desperately need another big man to ease the load on Tyson Chandler, who is due back Wednesday from a broken leg.
The Knicks made a foray into the Omer Asik sweepstakes and had discussions with the Rockets and a third team about a three-way swap, an NBA source told The Post. But the source said the Knicks are likely to fall short of obtaining the Houston 7-footer who has asked to be traded.
Problem: What can the Knicks give the Rockets? The report notes the Knicks could offer guards like Iman Shumpert or Metta World Peace. There's Tim Hardaway Jr., but the Rockets are looking for something that can help them now, not later. And we all know the Knicks don't have any first round picks left to deal. 
The 76ers, Celtics, Hawks and Cavaliers are said to be the leaders for Asik, with the Trail Blazers possibly being a darkhorse candidate. And a quick glance at all of those team's rosters and assets, and the Knicks don't have anything comparable. 
So while the Knicks could use him badly, go ahead and forget about this one. 
Our advanced computer model simulated Saturday's Thunder-Cavs game 10,000 times

The Jazz are reportedly looking into trading Rodney Hood before the Feb. 8 NBA Trade Deadl...

The Cavaliers are ready to reset everything if they have to. Their interest in Lou Williams...
It sounds like the Cavaliers are going to be active before the NBA trade deadline on Feb....

We've got all the scores, highlights and news for Friday night

George Hill, who is unhappy in Sacramento, could be a solution to Cleveland's backcourt si...