Rumor: Kyrie Irving could be headed to New York, wocka-wocka-wocka
Could the Cavs star be on his way to the Big Apple? Well, no. But maybe? Well, not really. But kind of? Actually, no, not at all.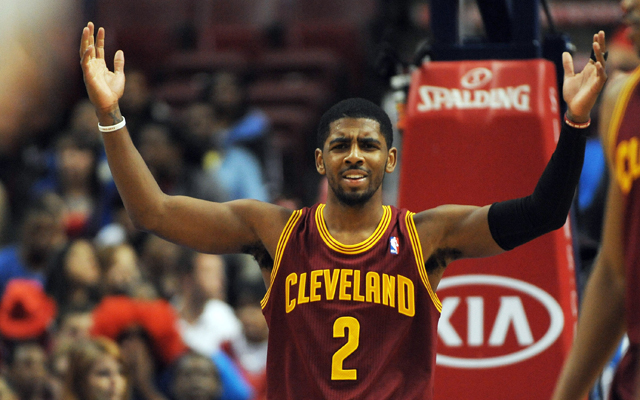 The New York Daily Newsdecided to stir some stuff up about Kyrie Irving potentially joining the Knicks in 2016. From the DN: 
Is Cleveland, which is building around Irving with a young team and perhaps Andrew Bynum — if his knees manage to hold up — headed for another round of heartbreak? There's long been talk that Irving, a West Orange, N.J., product, wants to come home and play for the Knicks.

The earliest he can leave Cleveland is July, 2016, after playing this season and the next two seasons for the Cavs. It's down the road, but it's not very difficult to imagine a scenario with Irving ending up in the Garden.
via Cleveland Cavaliers star Kyrie Irving could follow LeBron James out the door - NY Daily News.
So will Irving really abandon the Cavaliers like LeBron James and head to the Big Apple to NO WAIT STOP RIGHT THERE NO FALSE DO NOT PASS GO DO NOT COLLECT $200. 
In 2016, Irving will be a resricted free agent. Two things about this situation are relevant: 
1. There is no history of a player whose team wanted to retain him coming off his rookie deal failed to do so as a restricted free agent. Even if Irving signs with another team, the Cavs aren't leting him go; they'll just match his offer sheet. Even if he says he doesn't want to stay and he hates Cleveland and "No, no, no, you can't make me," do you really think the Cavs are going to let him walk? They'll keep him and eventually trade him if it comes to that. Of course, he could just sign the qualifying offer instead of entering restricted free agency and become unrestricted, which is likely since no superstar has ever done it. 
2. The Knicks have to re-sign Carmelo Anthony this summer, then get him some help in 2015 to keep him happy and stay in title contention. Is there going to be room left over for what is likely a $15 million-plus-per-year contract for Irving? Wait, hold on, I've got this nifty thing called a calculator in front of me. Survey says: no chance in hell!
Look, superstars leave places like Cleveland for places like New York. It's just part of the NBA's lifecycle. But when they do, it's after the extension or re-signing as a restricted free agent. It's that second contract, when they're able to depart as an unrestricted free agent that they take their talents somewhere else. Not that first deal. The last major player to move on that kind of deal was last summer with Brandon Jennings, in which the Bucks really didn't want to pay him. Not exactly the same deal. 
A lot can happen with the Cavaliers between now and 2016. But not enough to mean that Irving won't be a Cavalier when the season starts that fall. 
HT: HoopsHype
The Cavs would reportedly entertain the deal, but there's really no point

Westbrook claims he doesn't remember calling Jackson's celebration 'bull----' back in 2016

Rose is reportedly sick of being injured, and it's 'taking a toll on him mentally'
SportsLine's proven computer model simulated Friday's Cavs-Hornets game 10,000 times

SportsLine's Mike McClure, a DFS pro with more than $1M in winnings, gives optimal lineup...

SportsLine's advanced computer model simulated Friday's Bulls-Warriors game 10,000 times