Rumor: Nets, Warriors interested in trade for Lowry along with Knicks
Golden State and Brooklyn would also like to get their hands on the mercurial diminutive point guard.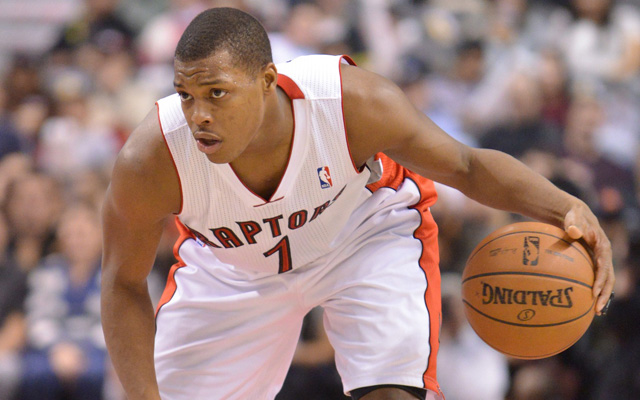 As rumors continue to swirl about a possible trade between the New York Knicks and Toronto Raptors involving point guard Kyle Lowry, outlets are reporting that the Knicks aren't the only team interested in the hot-headed guard Lowry. The Brooklyn Nets and Golden State Warriors are also sniffing around.
Knicks, Nets & Warriors all interested in Toronto point guard Kyle Lowry.

— Frank Isola (@FisolaNYDN) December 12, 2013
Yahoo Sports reports something similar involving the Nets. The fact that Toronto is reportedly demanding a first-round pick severely limits any deal, as the Nets, like the Knicks, have given away most of their future picks in attempts to build super-contenders, and the Warriors sent theirs to Utah, though they could conceivably move a future pick (several years down the line) in a deal. 
What's clear is that the Raptors have created a market for their starting point guard who has reportedly wanted out of Toronto for some time. With the trade of one of his best friends in Rudy Gay, there's little left for Lowry in Toronto, and he's too good to help the Raptors tank for a higher pick. 
The Nets actually have pretty good point guard depth, with Deron Williams back in uniform after more ankle issues, and Shaun Livingston and Tyshawn Taylor having played well in his absence, albeit for an awful team. But then, this reeks of the kind of move the Nets make, going after a big name with little consideration of long-term consequences. 
The Warriors' bench is a nightmare behind Stephen Curry and could certainly use Lowry. But would Lowry embrace a back-up role, even on a psuedo-contender?
T.J. Warren gets paid big money by the Suns in a four-year deal

Melo didn't hold back on his feelings about President Donald Trump and urges for help in Puerto...

The Wizards star says the NFL won't change until important players like Brady and Rodgers speak...
Popovich spoke at length about sports, race, culture, and politics during Spurs media day on...

Carmelo Anthony finds the idea of coming off the bench very funny

Several teams spoke about Trump's recent comments about protests and the Warriors' White House...