Rumor: Nuggets and Knicks talking deal involving Shumpert and Faried
The New York Knicks and Denver Nuggets are discussing a deal that would send Iman Shumpert to Denver and Kenneth Faried to New York, according to reports.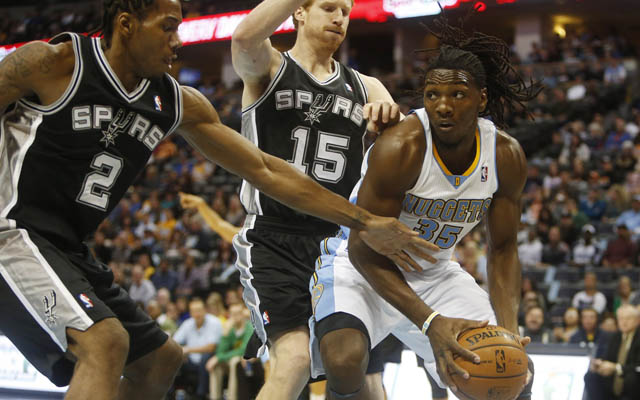 The Knicks and Nuggets have been trade partners before in the recent past, and they're potentially set to pull off another big swap. 
According to ESPN.com, the Knicks and Nuggets are discussing a deal that would include sending Iman Shumpert to Denver while Kenneth Faried heads to New York. According to the report, Shumpert has been in high demand on the trade market. 
According to the New York Daily News, talks have "intensified" but no deal is said to be imminent. 
The big hang-up in these talks is said to be that the Nuggets are seeking draft picks in exchange as well. 
The Knicks are desperate for frontline help after Tyson Chandler's recent injury, especially with Amar'e Stoudemire and Kenyon Martin being limited. Faried has one year left on his rookie deal before he could be eligible for an extension next summer. Shumpert is in the same situation. 
Faried, 23, has seen his production dip this season playing under new coach Brian Shaw, averaging fewer minutes (23.7) while putting up 8.8 points and 8.5 rebounds. 
Shumpert, 23, is a valuable perimeter defender, but an expendable piece for the Knicks with some of the depth they've built in the backcourt. He's averaging 9.5 points and 4.7 rebounds in 29.7 minutes. 
It sounds like the NBA is moving towards the end of the much disliked one-and-done rule

A high-scoring guard is taking flight out West, while a role player gets his chance to shine...

There are a lot of weird things going on in the NBA, but how many of them will last?
Crawford also discussed Lonzo Ball and Chris Paul

The Celtics earned their 14th straight victory with defense, hustle and heart

Warriors star lauds Celtics for extending their win streak to 14 games