Rumor: Philadelphia 76ers interested in acquiring Rockets' Omer Asik
With the Houston Rockets looking to trade backup center Omer Asik, the Philadelphia 76ers are reportedly emerging as a top trade partner.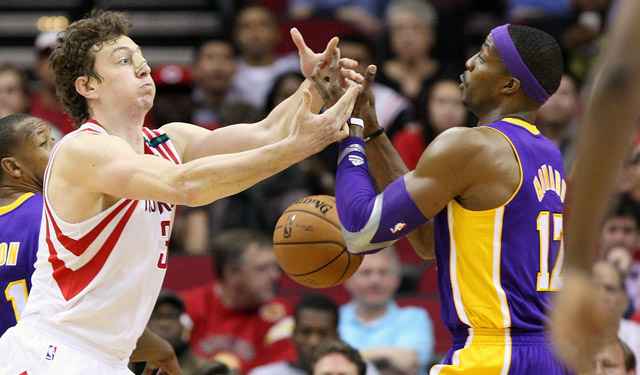 Ever since the Houston Rockets won the Dwight Howard sweepstakes in the summer, last year's starting center for Houston Omer Asik has been wanting to find his way to a new team. Asik had success as a starter last season for a Rockets team that made the playoffs. It's not a shock that Asik didn't want to become the backup to the top center in the NBA.
The Rockets have been reportedly looking to move Asik for some time now with efforts increased as of late. Marc Stein of ESPN.com reported that the Philadelphia 76ers could be the front-runner for the center's services, thanks to some ties with the Asik signing in Houston -- Sixers' GM Sam Hinkie. 
1. Keep your eye on Philadelphia. Front-runner would be overstating it, but the notion that the Sixers are a viable destination for Asik is increasingly making the rounds. And that certainly makes sense given (A) Philly's front office is run by a certified Asik fan, former Rockets exec Sam Hinkie; (B) Philly has a frontcourt player to send back to Houston, in Thaddeus Young) whose skill set can click with Dwight Howard's, albeit not as well as seemingly unattainable dream target Ryan Anderson; and (C) there really isn't an Asik for Philly to draft with the high pick it's likely to snag in the 2014 lottery. 
A couple of possible trades that could work for these two teams:
Omer Asik and a conditional first round pick for Thaddeus Young. A straight up swap of Asik for Young works in terms of salary cap numbers (although the Sixers are roughly $10 million under the cap so they can absorb Asik's contract completely). Young is a better player than Asik and I can't imagine their asking price would be anything less than a player and a first for Young. 
Omer Asik for Spencer Hawes. No draft pick. This isn't an ideal value return for Houston, but Hawes would fit in nicely with what the Rockets like to do. He can stretch the floor, could play next to Howard with his passing ability, and he's an expiring deal that would give them room to go after one more major player in free agency/trade.
Omer Asik for Evan Turner. Probably don't have to give up a first round pick to get Turner, although that's going to be the asking price when they're playing hardball. Turner doesn't exactly fit into Houston's style because of his outside shooting but he can be a nice playmaker in an uptempo style. This deal makes the least amount of sense of the three fake scenarios. 
The former Slam Dunk Contest champion will take his talents to Tri-State

Do NBA players have look-a-likes from famous paintings? We found out on the new Arts & Culture...

Larry Hartstein is on quite a run in picks involving the Suns and the Trail Blazers
Rodman's agent says he is urging the ex-NBA star to check into rehab

The players and referees are working to fix a relationship that has recently been deterior...

The locker room heist is going to lead to plenty of fines and maybe some suspensions from the...