Rumor: Raptors have discussed trading Rudy Gay
The Raptors have reportedly discussed moving Rudy Gay, but are remaining patient.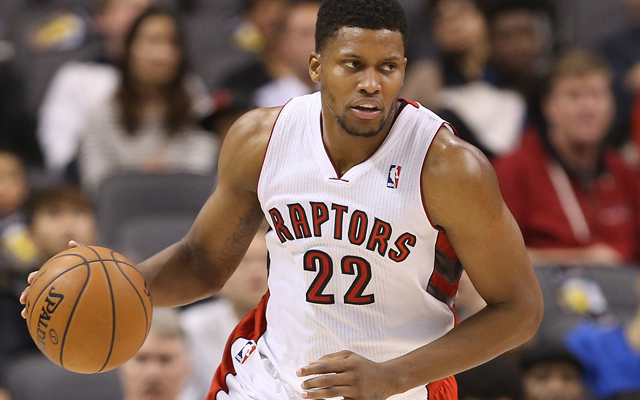 The first two months will define how things are going to go this season for the Raptors. With a new front office in place, there's a common line of thinking that the team may scrap 2013-14 with an eye towards the future. Just a few weeks on to the job, general manager Masai Ujiri dealed franchise staple Andrea Bargnani, acquiring future assets and flexibility. 
But he also inherited Rudy Gay, who was a acquired last season by former GM Bryan Colangelo. Gay's contract is inflated compared to his production and with him signed through 2015, his salary could hold back any effort at rebuilding. If the Raptors start slow, Ujiri may pull the plug. 
Which is something he's considered, according to The National Post, which reports that Ujiri has talked about trading Gay, but is remaining patient. The likely reason behind that is to see how the team performs early, especially considering their positive finish to the 2012-13 campaign.
Ujiri has an excellent track record at trading a high-profile player, having dealt Carmelo Anthony to the Knicks while pulling in an solid package to build the Nuggets. Gay doesn't have anywhere near the same kind of trade value as Anthony, but there's an opportunity to find a team searching for a scorer and unload him for assets and cap space. 
But if the Raptors have a solid start to the season and are in playoff contention in late December, dealing Gay could be challenging for a fanbase sick of rebuilding talk to stomach. Then again, you'd trade 20 wins this season for a shot at native son Andrew Wiggins wouldn't you, Raptors fans? I thought so. 
With 2K18 out everybody wants to know who has the 10 highest ratings in the game. Here's the...

Durant noted in an interview that all of the criticism in the immediate aftermath hit him...

Want the swagger of LaVar Ball? "NBA 2K18" lets you copy his absurd run from his WWE appea...
Durant apologized for a few tweets in which he criticized OKC and his former coach Billy D...

Lue does not expect the Cavs' big trade to affect the team's starting frontcourt ... at least...

Dwight Howard wants to be a farmer in his future and retire with his donkeys