Rumor: Rockets to trade Asik next week, possibly to the Cavs?
According to a report, the Rockets are set to trade Omer Asik next week, and the Cavaliers could be their buyer.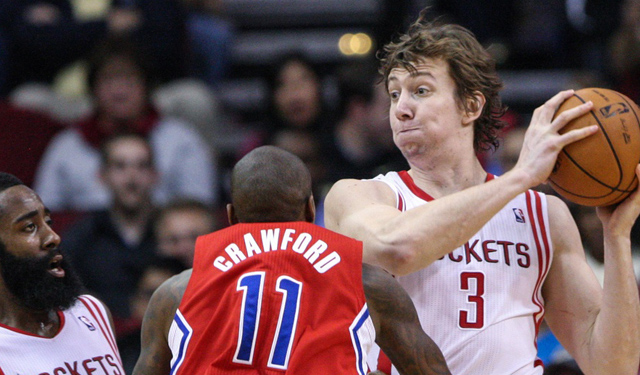 The Omer Asik trade drama could finally be nearing an end.
According to NBA.com, the Rockets will trade Asik by "Tuesday or Wednesday of next week," and a possible emerging suitor could be the Cavaliers with Anderson Varejao headed back to Houston. 
Asik recently switched agents to Arn Tellem, as his agitation has grown that he's not been moved. Asik has been unhappy in Houston since Dwight Howard signed and recently asked for a trade. 
Financially, an Asik-for-Varejao swap works as Asik is making $8.3 million this season and Varejao is making right at $9 million. Asik is signed through the 2015 season, while Varejao's deal isn't guaranteed for next season. 
Other teams linked to Asik recently have been the 76ers, the Pelicans, the Trail Blazers and the Celtics. 
Asik hasn't played in Houston's last four games because of an "injury," but is averaging 4.4 points and 6.8 rebounds in 17 games this season.
Jordan joined LeBron James to show support of those who wish to exercise their freedom of...

Wade opted in to his $24 million player option earlier this summer

Barkley spoke to the NFL Today crew about the response the president received in his home...
The restricted free agent has a deal in place that will keep him with the Bulls after a st...

James' support continues his trend of social activism on social media

The newly-acquired All-Star thinks the addition of Anthony boosts the Thunder in the NBA's...