Rumor: Suns discussing trade possibilities for Eric Bledsoe
Phoenix reportedly considering trade options as standoff with restricted free agent goes sour.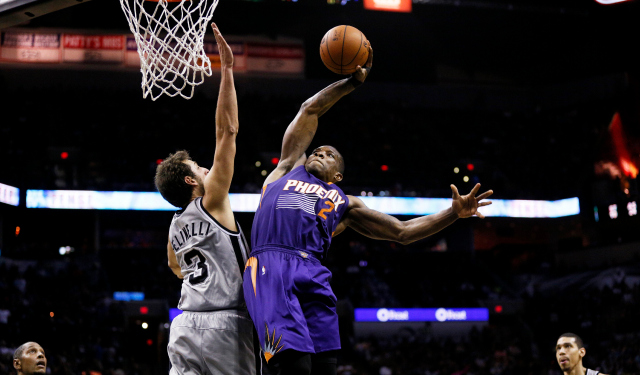 A local Fox station in Phoenix reports that the Suns have decided to pursue trade options for Eric Bledsoe.
"You can take this to the bank, so to speak," Jude LaCava told FoxSports 910, "the Suns are now discussing trade possibilities for Eric Bledsoe. The reality has kicked into the point that my sources are telling me that if they can accommodate Bledsoe and get something that they want in return, trade possibilities are very real and they have been discussed. 
Bledsoe is locked in an ugly contract dispute with Phoenix as a restricted free agent. The Suns have the right to match any offer for him and as a result, no teams actively pursued Bledsoe, which of course drove the price down. As the Suns have had all the leverage, they have held on to try and get the best price. The result, obviously is some level of frustration on Bledsoe and his agent Rich Paul's part. 
There have been reports that Bledsoe got what is considered a "fair offer" by the standards of other executives and agents, and in late July, there was a report of an "ominous development" between the two sides. Owner Robert Sarver told reporters they haven't spoken to Bledsoe in four months. 
Bledsoe can likely return significant value in trade, particularly since the Suns' maintain leverage no matter how bad the situation gets. But losing Bledsoe might be significantly worse no matter what they get back. He played so well last season and the team designed a lot of its plans around Bledsoe. 
Bledsoe returing to Phoenix looked like a lock for the better part of a year; GM Ryan McDonough was adamant the team planned to match any offer for Bledsoe. And that's the problem. The team had no incentive to compromise its offer without competition, and competition was unwilling to generate an offer without the remote possibility of actually acquiring him. 
So the two remain stuck, and it appears the well continues to be poisoned further by the minute. 
A look at who came out ahead after Tuesday's megadeal swaps the point guards on the East's...

How the addition of IT changes the Cavs and where they go this summer depending on LeBron's...

Ainge said that he expects the start of Thomas' season to be delayed, but he'll be 'fine'...
The NBA MVP odds have shifted quite a bit following the blockbuster Kyrie Irving - Isaiah Thomas...

It's debatable whether Boston gets better right away with Irving, but the future is definitely...

Kyrie Irving was set to grace the cover of this year's video game in a Cavs jersey -- whoo...