RUMOR: Timberwolves trade of Derrick Williams is 'close'
Could the Wolves move Derrick Williams? Who's really in the market for him?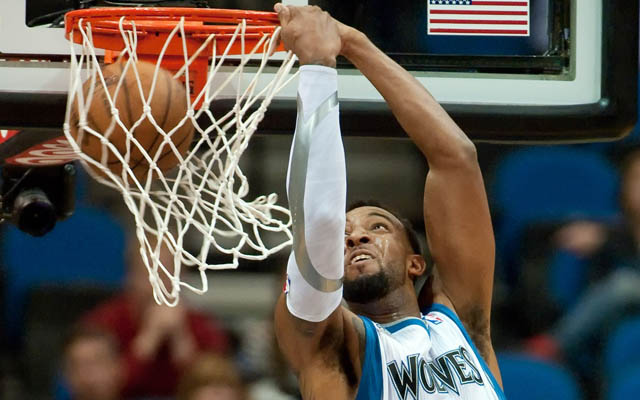 ESPN 1500 in Minnesota has a rumor that a Timberwolves trade of Derrick Williams is "close." 
Buzz from Mohegan Sun event over the weekend where #Twolves GM Milt Newton was: D-Will trade is close. Utah, Sac. NYK, Nets possible.

— Darren Wolfson (@DarrenWolfson) November 25, 2013
Williams looked great in preseason... and then completely vanished from the face of the rotation, never to be heard from again. He's averaging career lows of five points and two rebounds in 15 minutes per game. 
Now, now, don't everybody rush to the front at once with your trade offers! 
He was drafted No. 2 overall by the Wolves after a scintilating college run but has failed to find a position in the league. He's not fast enough, explosive enough, or a good enough shooter to play the small forward position, and not big enough, strong enough, or a good enough rebounder to play power forward. There's talent there, but he's got to be in the right system for it. 
The Kings are shopping just in general, but you wonder how they're going to take on Williams in addition to Jason Thompson and Patrick Patterson, unless they're trying to collect the whole tweener set. 
Utah might take it but they'll want to shed salary and Minnesota's probably not looking for Richard Jefferson. Alec Burks might be an option, but that would still be a really weird move. 
The Knicks and Nets are tire fires right now, so the whole situation is too unstable to predict. 
Willimas has reportedly been on the block for years now, and really shouldn't have been drafted when they have Kevin Love in the first place. If a deal does happen, it's going to take a move to the right kind of situation for it to benefit Williams. 
Kobe the rookie had no fear facing off against Michael Jordan the legend. Then he gave up a...

Once again the Jazz will be without Rudy Gobert due to injury. How will they fare?

Lorenzen Wright's ex-wife has been charged with his 2010 murder
Hayward, free of his walking boot as of Wednesday, says his mind is open to a return before...

The former Knicks star returns to New York for the first time since joining the Thunder

Former longtime Knick Carmelo Anthony makes his return to New York