Rumors: Andrew Wiggins getting $180M from Adidas could be a hoax
Kansas freshman Andrew Wiggins has been rumored to have upwards of $180 million waiting for him when he signs an agent, but it could be from a fraudulent memo.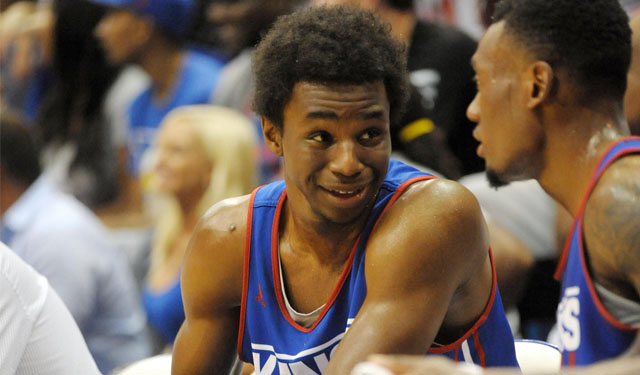 There were reports on Tuesday about college basketball phenom Andrew Wiggins, who is attending the University of Kansas for his presumed one year of college ball, getting $180 million from adidas if he signed with the shoe company when he is eligible to do so. This raised quite a few eyebrows because that would be by far the biggest shoe deal given to a player before he played in the NBA, double what LeBron James received from Nike before he joined the Cleveland Cavaliers out of high school.
According to SoleCollector.com, the reports and eye-grabbing number that was floated out there could be coming from a fraudulent memo from adidas Group CEO Herbert Hainer. Condering the sensitive nature of such a potential major violation by the shoe company, Wiggins, and the adidas-sponsored University of Kansas, it seems highly unlikely that this memo would be real for so many reasons.
It all apparently stems from this alleged memo from adidas Group CEO Herbert Hainer, addressed blankly to a Wiggins representative, which Sole Collector has exclusively obtained below and has also confirmed to be entirely fake.  

"There is a fraudulent letter that claims to be from our company offering Mr. Wiggins a contract. Any reasonable review of the letter would determine its lack of credibility," an adidas Basketball spokesperson told Sole Collector this morning. "Beyond this, we do not comment on rumors or speculation about potential partnerships."

The undated hoax letter, from a brand CEO to an amateur athlete, would undoubtedly be a major violation during the window in which Wiggins was deciding on which college he would attend. That should of course be red flag #1 as to the letter's lack of authenticity.
Explanation from Sole Collector and a copy of the memo itself can be seen here.
It should be noted from the original report by Jared Zwerling of Bleacher Report that there were no mentions of a memo from adidas that came up with that incredible dollar amount. Zwerling had multiple sources quoted as mentioning that number, but it's completely possible the sources heard that number from this fraudulent memo that was making the rounds. 
Wiggins is sure to bring about a major bidding war from adidas and Nike when he's eligible for the draft and signs with an agent. Even if the number approaches $100 million and somehow eclipses what LeBron got, that's still a big enough payday for a player who has yet to play a single possession of NBA basketball but has all of the hype surrounding him to justify such a figure. Outside of the two power companies, Under Armour and various Chinese shoe companies will most likely make a courtesy offer just to be in the back of his mind, but it's unknown if they'd be able to match the kind of money Nike and adidas can throw at him.
We've got all the scores, highlights and news for Thursday night

The Sixers big man got his first All-Star selection -- and maybe some revenge -- on Thursd...

It appears some players are not entirely taking the All-Star voting process seriously
There were some weird discrepancies between the fan, media and player votes

LeBron and Steph will be the captains for the 2018 NBA All-Star Game

Arron Afflalo was involved in an altercation with Timberwolves big man Nemanja Bjelica on...