Russell Westbrook gets crucial late technical and refuses to talk about it
Russell Westbrook can't seem to catch a break in the court of public opinion. But really, that's nobody's fault but his own.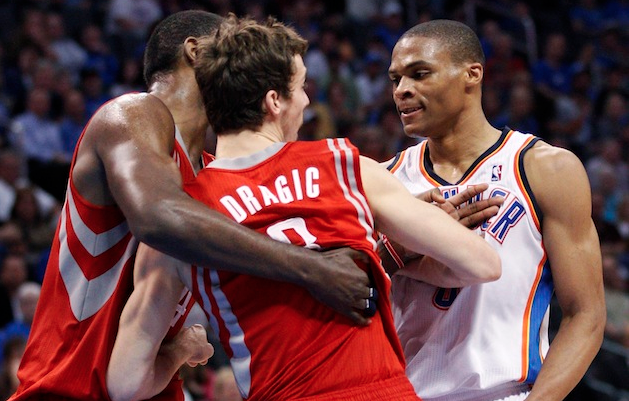 Russell Westbrook blew off the media after a tough loss Tuesday to the Rockets.
(Getty Images)
OKLAHOMA CITY -- Russell Westbrook doesn't get a fair shake with the media. He's seen as a hot-head, a guy that hogs the ball, a guy that wants the spotlight, a guy that doesn't get along with his saintly superstar teammate Kevin Durant, a guy that is more problem child than ridiculous talent.
None of that is true. At all. But that's the perception. And one reason for it? Because Westbrook doesn't help himself out any in that regard. 
Take Tuesday night's home game against the Rockets for Oklahoma City. The Thunder had scored on seven straight possessions with Westbrook playing off the ball as James Harden masterfully operated a pick-and-roll. OKC was up 11 with two minutes left. Scott Brooks decided to turn the ball back over to Westbrook, who has been extremely trusty this season, hitting big shots and making big plays. 
Not this time against Houston. Westbrook turned the ball over twice, missed a free throw and picked up a crucial technical foul for losing his cool after a Goran Dragic foul. The Rockets converted the free throw. And guess what? The Thunder lost by a point, 104-103. 
It doesn't take Dr. Jack Ramsay to figure out why OKC lost this game. The defense collapsed, and more obviously, Russell Westbrook played poorly the final two minutes. He knew it. Thunder coach Scott Brooks knew it. Fans knew it. It happens. Sometimes you don't play well and make mistakes. The problem with Westbrook though, is he didn't want to own up to them. 
In his postgame availability, Westbrook was asked about the incident between him and Dragic. His initial response: "Um, what happened with what?" almost insulting the intelligence of everyone standing there. I was the one that did the asking, so I asked again: "The technical late in the game, you got into it with Dragic a little bit?" 
Westbrook turned his head and stood silently. He straight up ignored the question and waited for a new one. Pretended like I didn't exist. He was then asked a question about his ankle by someone to which Westbrook responded politely. The Thunder's PR person said, "Thanks Russ" as a signal the time with him was over, but another writer spoke up. "Were you thinking about answering that question or are you --" except Westbrook was already walking away. Power move, I guess.
After it happened, there was a low murmur around the media as everyone tried to process what Westbrook did. It wasn't the worst thing in the world, but it clearly perturbed a good number of media members standing there. 
It was an immature move. There's no way around it. As the team's point guard and one of its two captains -- along with Durant -- all this moment required was some simple accountability. Instead, it's just another example of why Westbrook has a hard time making friends in the media. All he had to say was "I lost my cool and I shouldn't have." Or, "Goran Dragic is a baby that falls down all the time." Or, "Dragic is a fake tough guy." I really don't care what you say, but be accountable for the moment. It was an important play. It wasn't something everyone could just overlook. 
It's precisely these type of things why Russell Westbrook is often the Thunder's scapegoat. He makes himself an easy target. While Durant can do no wrong, nobody runs to defend Westbrook. Durant always says the right thing, no matter the situation. Westbrook — and I say this as someone that is a full-blooded Westbrook apologist that thinks the guy doesn't get near enough credit for OKC's success — chooses to make enemies. He carries that chip on his shoulder off the court and doesn't do himself any favors in the court of public opinion. He might not care and more power to him if he doesn't, but it's not hard to just answer a question.
If you find everything I've ever written on Westbrook, 
you'll see I've defended the guy to the death
. I truly believe the guy's one mission in life is to win and be a good teammate. That's it. He's not selfish, he doesn't want the spotlight, he doesn't want to be an alpha dog. He just wants to win basketball games.
But he alienates even his biggest fans, like me, when he acts that way. It's hard to stand on an island and defend the way he plays and try and convince people he's really a cool dude. And it's even harder to make people believe he's a point guard that can lead the Thunder to a championship when the lasting image of Westbrook is either an emotional outburst or an immature stunt with the cameras rolling.
Pretty much everyone that hasn't spent a week around the Thunder think Westbrook and Durant don't get along. And why wouldn't they? Because the Russell Westbrook they're privy to seeing is one that answers questions in one word, ignores others and isn't exactly an inviting personality. While Durant never has a missed step, a slip of the tongue and says the type of things that make a writer's heart melt, Westbrook comes off as the cold, angry and almost mean bad guy. To an outsider, it makes sense to wonder why in the world Durant
would
like Westbrook. Because that's the public image. That's the perception. That's the Westbrook people see. 
What they don't get is the guy that laughs it up, has a big sense of humor and very clearly is good friends with everyone on the team. He has no enemies in that locker room. He just carries a constant chip on his shoulder. He can't shake it. It's one of the reasons he's risen from a guy barely anybody wanted out of high school to an
NBA
All-Star and one of the best players in the league. He always feels like the universe is against him and he constantly is trying to prove everyone wrong. 
This wasn't the first grievance though. Another example: Following a loss Dec. 29 to the Grizzlies where Westbrook went 0-for-13 from the floor and had an "altercation" that wasn't really an altercation at all, he blew off the media following that game. And the next night before the Thunder played a home game against the Mavericks, he essentially pretended the incident the night before didn't happen. When a reporter asked him to explain the incident with him and Durant on the bench, he played dumb.
"What happened?" he said. Again, said with that same air of sarcasm that was more insulting than anything else. 
Westbrook tweeted following that game "Mindset,"
  but hasn't tweeted since. I tried asking about that recently and he very clearly did not want to talk about it. Completely blew it off. Actually ended up just saying, "No more Twitter questions man," while getting up to walk away. Whether it's the negativity, whether it's just a distraction he doesn't want, who knows. He wouldn't say. Westbrook doesn't want to talk about things. And that's the problem.
The Rockets will try to extend their 10-game winning streak

It's a different league now, but the veteran is filling a void for New Orleans after his four-year...

The Bulls lead by three with 10 seconds left but lost 116-115
Larry Nance Sr. starred for Cleveland from 1988-94

The hotline comes in the wake of the 'Sports Illustrated' investigation into the Dallas Ma...

Giannis, who spent last weekend in L.A. for the All-Star Game, says he loves 'low-key' Mil...