Russell Westbrook is making history, leads league in assist percentage
Thunder guard Russell Westbrook is playing even better than you thought.
• 2 min read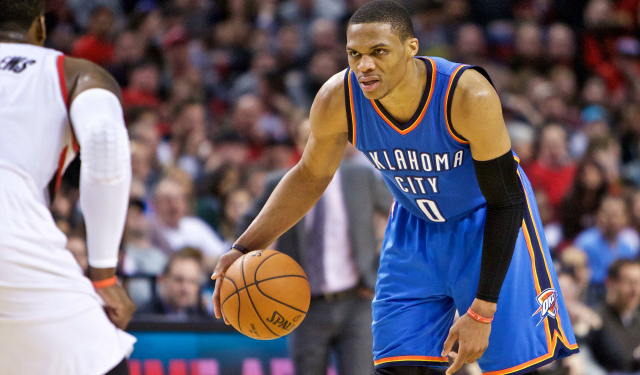 Russell Westbrook has been destroying everybody. In February, he averaged 31.2 points, 10.3 assists and 9.1 rebounds in 35.2 minutes per game, which sound like made-up numbers. You've no doubt seen some of his wizardry recently, but you might not be aware of just how thoroughly he's been obliterating his opponents. It's historic.
Did you know that he has the highest assist percentage in the NBA? Westbrook has assisted on 47.8 percent of his teammates' baskets while he's on the floor, the highest rate among all NBA players this season. For perspective, Magic Johnson, perhaps the best facilitator of all time, posted a career mark of 40.9 percent.

This is what gets lost in the Westbrook conversation. Westbrook helps his teammates immensely by collapsing the defense and finding the open man. It'd be one thing if Westbrook scored 39 points on 38 shots and didn't help others score. But he created 26 points off his 11 assists Thursday night. Earlier this week, he scored 21 points and pulled down eight rebounds, which is your average Blake Griffin night. But here's the thing: On top of that typical Griffin night, Westbrook dropped 17 dimes that led to 38 points. Who does that? Westbrook does.

We've never seen this magnitude of shot creation. ESPN director of analytics Benjamin Alamar, who worked for the Thunder when they drafted Westbrook in 2008, looked it up earlier this week and found that Westbrook's combination of scoring and distributing is unmatched historically.

The updated numbers: Westbrook's 38 percent usage percentage and 48 percent assist percentage (rounding both numbers up) give him a total impact of 86 percent. In other words, roughly 86 percent of Thunder possessions with Westbrook on the floor end with either a Westbrook shot, free throw, turnover or assist. The next closest on record? That would be 77 percent, a far cry from what Westbrook is doing right now.
Some thoughts:
1) Holy macaroni, that's a lot of Westbrook. And it's working -- the more he does for the Thunder, the better, as Haberstroh explains in the piece. This is particularly true while Kevin Durant is sidelined. Nobody can stop Westbrook, and -- contrary to the narrative -- he's making his teammates better, elevating lineups that lack creators and shooters. 
2) Let's give Scott Brooks a tiny bit of credit for once. It's totally fair to criticize his lack of creativity offensively, but the give-it-to-Westbrook-and-let-him-kill-everybody strategy is pretty effective.
3) The Thunder beat the lowly Lakers last night, and they'll face the silly Sixers on Wednesday, but here's hoping Westbrook is able to come back from his facial injury soon. Oklahoma City will face the Bulls on TNT on Thursday, and it will need his creation.
4) When Westbrook and Durant are both healthy, it would really be wonderful if Brooks staggered their minutes. Perhaps this stretch will convince him to do so.
CBS Sports HQ Daily Newsletter
Get the best highlights and stories - yeah, just the good stuff handpicked by our team to start your day.
Please check the opt-in box to acknowledge that you would like to subscribe.
Thanks for signing up!
Keep an eye on your inbox for the latest sports news.
Sorry!
There was an error processing your subscription.
LeBron was on hand to support some of his new teammates in Vegas

Here are the top prizes left in the 2018 NBA offseason

All the info on the top names still on the market this offseason
Rivers lost his title as team president but says "I'm still involved in every decision, so...

NBA players from France show their national pride after the World Cup win

Eight teams remain alive in the NBA's Las Vegas Summer League