Russell Westbrook on shot selection: 'There's no need to take long 2s'
Russell Westbrook, who has often been criticized for his shot selection, explained why he's taking more 3-pointers this season.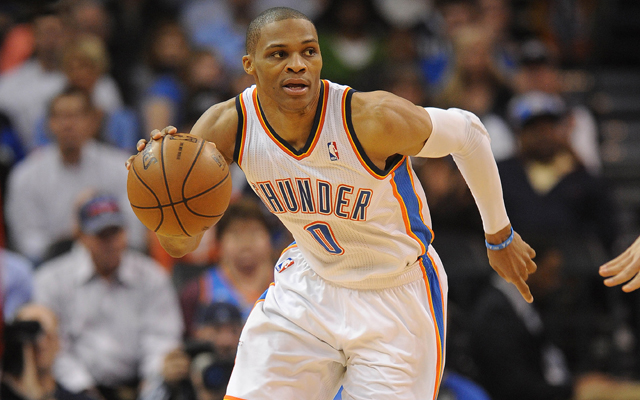 OKLAHOMA CITY -- Very few players in the league have been more criticized the past few seasons for their shot selection than Russell Westbrook. Most have seen him as a shoot-first-ask-questions-later kind of point guard, a guy who thrives because of his motivation and competitive spirit, but takes plenty of shots that leave you asking, "What was he thinking?"
Turns out, he actually is thinking.
Westbrook is taking 1.1 more 3-pointers per game this season, up from 3.7 to 4.8. He shot a career-high 300 3s last season, and is on pace to take over a hundred more than that this season. 
He explained it this way on Friday after the Lakers game.
"If somebody goes under, I'll shoot it. Gotta make 'em honest," Westbrook said. "Obviously they'd rather me do that than drive to the basket, but if they keep doing that, they're gonna learn."
But there's something a little more interesting about it: Westbrook is playing the numbers game. He's taking fewer long 2-pointers this season (3.1 a game from 15-19 feet, down from 3.8 a game last season).
"There's no need to take long 2s," Westbrook told CBSSports.com before Sunday's game against the Magic. "If you're going to take a [long] 2, you might as well take a step back and shoot a 3."
It works out like this: If you're taking a 3, shooting 33 percent on it is essentially the same as shooting 50 percent from 2-point range. (That's where the effective field goal percentage stat comes in.) And if you're taking a 22-footer, one of the lowest-percentage shots on the floor, you're getting minimal return on those looks. 
Has the Thunder front office or coaching staff -- a very analytically driven organization -- consulted Westbrook on that front?
"Nah not really, just something I've learned," he said. "It's a better percentage if you just back up a step or if you go in a step instead of taking a long 2. It's a bad shot."
Russell Westbrook, calling an attempt at the basket a "bad shot"? Where am I?
But it's clear the Thunder point guard is trying to learn and adjust. His offensive gifts mostly stem from his supreme athleticism and ability to get to the rim, and thereby, to the free throw line. But he's improved drastistically as a midrange shooter, becoming one of the league's better players from 10-16 feet. And that's really the key to his game. When the mid-range game starts working, everything else kind of falls in line behind it. 
Westbrook's not shooting a great percentage from 3 this season (30.2 percent), but he's only shooting 38.1 percent on long 2s. And since you get three points for a 3 and only two points for a 2, it's a positive change, at least in terms of overall efficiency. 
So the next time Westbrook chucks one from deep off the dribble with 18 on the shot clock, you're still allowed to wonder what in the heck he was doing, but at least now, you can know he's at least thinking about it.
Griffin can still hand out posters with the best of them

The Knicks forward is a bucket-getter in the truest sense of the term

On the TNT broadcast, even Shaq finally admitted that he likes Joel Embiid's game
The Warriors new Nike classic uniforms will be revealed Thursday

Joel Embiid doesn't want to call what the 76ers are doing a minutes restriction

The Mavs played a tribute video to the American flag prior to their opening game on Wednes...