Russell Westbrook partially practiced with the Thunder
The Thunder's All-Star point guard is back at practice, at least partially. And apparently, he's got more bounce than ever.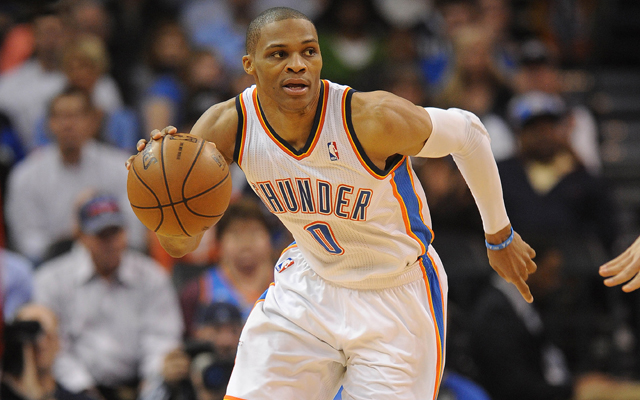 According to his timetable after having his knee scoped, Russell Westbrook is still at least about six weeks out from being back.
But he's already back on the practice court, at least partially. 
Via The Oklahoman, Westbrook was a partial participant in Thunder practice on Monday, taking part in some light drills and conditioning. 
"There were bits and pieces where Russell participated in practice, so that was good," Scott Brooks said, via The Oklahoman. "It was good to get everybody out there, working together."
Westbrook underwent arthroscopic knee surgery in early October after swelling caused by a loose stitch, following his April surgery to repair a torn meniscus. After the second procedure, it was revealed that Westbrook's meniscus was fully repaired and healed, which is pretty important news. And it's helping Westbrook rediscover some of that old explosiveness, apparently. 
Take it from eye-witness Reggie Jackson:
"Oh, man. Russell today…" Jackson said when asked how Westbrook looked, cracking a sly smile. "It's actually funny. My brother and his brother talk a little before games. His brother told mine that Russell's probably bouncing better than ever. I had to see it to believe it. One of the dunks (today), he went up and looked like the old Russell, plus some, head at the rim. We'll be happy when he gets back fully healthy, but it's good to see him with a smile on his face, being about the team, bouncing back and happy to be back on the court."
Westbrook's timetable has him returning somewhere between four and six weeks from the beginning of the season. But when he returns, he might be closer to his old self that we previouisly thought. 
Kevin Durant says he doesn't agree with what President Donald Trump agrees with

Evaluating where the future Hall of Famer might land up if he is freed from Chicago's rebuilding...

Adam Silver said his piece with the schedule out; we address that and what the slate looks...
The Hawks and Sharecare reportedly agreed to terms on a five-year deal

A look at the context of the schedule and who plays who when, and how far they travel during...

Durant took on rapper Lil Dicky and actually might have lost