Ryan McDonough: Suns want to sign Eric Bledsoe, P.J. Tucker quickly
Phoenix general manager Ryan McDonough said he didn't want to wait for other teams to make offers to their restricted free agents.
• 1 min read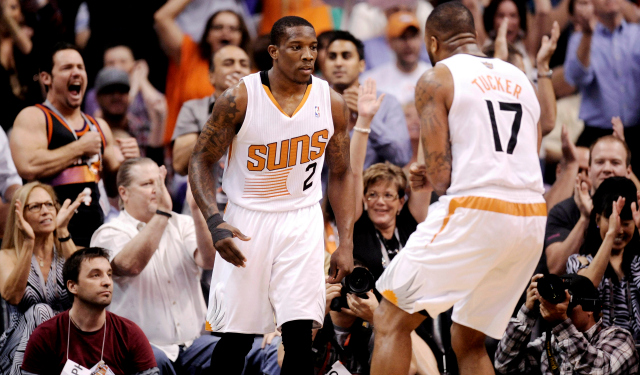 More Offseason Analysis: Coaching changes, news | Free Agency | Draft
Phoenix Suns general manager Ryan McDonough said that he plans to try to reach agreements on new contracts for restricted free agents Eric Bledsoe and P.J. Tucker early in July, via the Arizona Republic's Paul Coro.
"We'll try to do that as soon as possible and not let it get to the point where you'd have to get an offer and we'd match it," Suns General Manager Ryan McDonough said.
Tucker said that the Suns have told him they want him back, and it looks likely that they'll both be. McDonough told ESPN's Ramona Shelburne back in December that Phoenix would pay "whatever it takes" to keep Bledsoe. There will surely be other suitors.
When Bledsoe was healthy, he played like an All-Star this season, averaging 17.7 points, 5.5 assists and 4.7 rebounds per game and shooting 48 percent from the field. At just 24 years old, the point guard will undoubtedly wind up with a huge deal, potentially a maximum contract.
The 29-year-old Tucker is in a different position, but the forward has found his niche in the league as a tough defender and a consistent three-point threat. As a minimum-salary player, he is also due for a huge raise. 
Phoenix wants to build on its surprisingly successful season, and bringing Bledsoe and Tucker back would be a good start. If another team quickly offers either one of them a huge contract, though, the Suns might have to reevalute things. 
Barkley spoke to the NFL Today crew about the response the president received in his home...

The restricted free agent has a deal in place that will keep him with the Bulls after a st...

James' support continues his trend of social activism on social media
The newly-acquired All-Star thinks the addition of Anthony boosts the Thunder in the NBA's...

The Knicks were asking for the house in discussions for Carmelo Anthony

Steve Kerr has given his response to Donald Trump in writing