Sacramento Kings extend contract of coach Keith Smart
The Sacramento Kings have extended the contract of coach Keith Smart.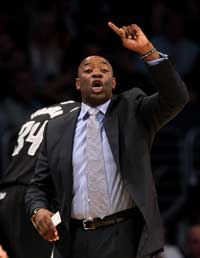 Keith Smart got another year from the Kings.
(Getty Images)
Very little is ever certain about the Sacramento Kings, but at least their head coach will be feeling a little less heat.
The Kings announced on Monday that coach Keith Smart's contract has been extended through the 2013-14 season, ensuring that next year won't be a lame duck season.
"Keith's extension gives us the stability we need to continue the development of our team," Petrie said. "He has the commitment, energy and vision necessary to succeed in building a winning team. We are all looking forward to working with him as we pursue an exciting and productive future."

"I'm excited to continue this process with the Kings," Smart said. "We're trying to get our franchise moving in the right direction. The goal is to keep moving in that positive direction, and I'm glad that I get that opportunity. It's been great working with Geoff and his staff and communicating with the Maloofs in this process."
The Kings have been a trainwreck in recent years, having missed the playoffs every season since 2005-06. They've been worse off the court, with constant rumors of relocation and ongoing struggles to secure a new arena deal in Sacramento. 
Smart, who joined the Kings as an assistant coach for the 2011-12 season, took over for the fired Paul Westphal back in January after the Kings began the season 2-5 and Westphal reportedly clashing with big man DeMarcus Cousins. The Kings then went 20-39 under Smart, finishing in the Pacific Division's basement for the fourth straight season. Sacramento is not expected to make the playoffs next season.
Smart, 47, holds a career coaching record of 65-116 (.359), serving as coach of the Cleveland Cavaliers briefly in 2002-03 and as coach of the Golden State Warriors in 2010-11, where he went 36-46.
Golden State led by 17 on ring night, but they missed Draymond Green and Andre Iguodala in...

Durant's shot is too late and the champs lose; Hayward's awful injury overshadowed Cleveland's...

Chris Paul sat out the fourth quarter of the Rockets win due to an apparent knee injury
Durant couldn't quite get the shot off in time, and the Rockets prevailed

Draymond Green walked off the floor limping and rubbing his knee in the third quarter

Golden State raised its second banner in three years. Now they start their run for another