Sacramento OK'd to present counteroffer for Kings
The city of Sacramento continues to work with local ownership bidders and the NBA to try and keep the Kings in town.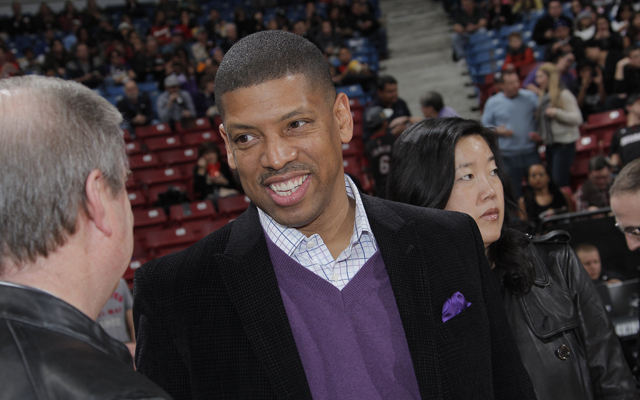 Kevin Johnson is still working to keep the Kings.
(Getty Images)
In a press conference this afternoon for a "State of Sacramento" breakfast, Mayor Kevin Johnson told reporters that David Stern has informed him that Sacramento will be allowed to present their case to keep the Kings in Sacramento at a NBA Board of Governors meeting. 
What does this mean? 
That's where this gets complicated. 
OK, so to catch you up. The Maloofs would like to sell the team, having realized that they're never going to find a way to get the team out of Sacramento while retaining ownership due to 1, finances and 2, the fact that the NBA has zero faith in them as evidenced by the Board of Governors' rejection of their bid for relocation. (Technically it never came to a vote, that was after the league saw Johnson's last presentation which evidently made the Maloofs' look like that horrible speech on bugs you gave in third grade.) 
So they want to sell the team to someone who will drastically overpay for the team, move it to a bigger market, while allowing the Maloofs to retain control of the franchise. They want to get paid for their stake in the team while still being major players in the NBA scene and get to enjoy their toy.
Seattle's Chris Hansen put together what was reported to be a massive bid of close to $500 million (standard selling price for NBA franchises varies between $300 million to $350 million). But that also has to cover the relocation fee cost of over $100 million, and there were reportedly disagreements over how much control the Maloofs would get in that situation. (And really, if you're paying $500 million for a franchise, don't you want to run it the way you want?)
After hangups started surfacing, CBSSports.com's Ken Berger reported that 24 Hour Fitness founder Mark Mastrov was putting together an offer to buy the team and keep it in Sacramento. That's followed by today's report from USA Today which outlines a little more of what the plan is for local ownership groups. 
While the identities of Johnson's deep-pocketed allies have mostly been kept private, two people with knowledge of the situation said that current Kings minority owner John Kehriotis – who owns approximately 12 percent of the team - has been in talks with at least one of the groups organizing an offer to keep the team in Sacramento. He's not alone in that regard, as Northern California-based 24-Hour Fitness founder, Mark Mastrov, is also known to be involved in such efforts to keep the team in Sacramento.

While Mastrov is considered the most serious of the known local suitors, two people with knowledge of the situation said that the interest of Los Angeles-based supermarket mogul Ron Burkle has been overstated and the extent of his involvement is unclear. Stern himself mentioned Burkle on Thursday, saying that Kings fans made a fair point that he – or suitors like him – deserved a fair shot at making a bid on the team that would keep it in town. Burkle first entered this picture in April of 2011, when Johnson got Stern's attention by partnering with the man who emerged as the most likely candidate to ride in on the white horse to save the Kings.
via Kevin Johnson won't give up trying to keep Kings.
So now you have several people with deep pockets putting together an offer to buy the team and keep it in the city, along with the new arena agreement with the city that the Maloofs backed out of last spring because they are the Maloofs. 
But what about that pesky control issue? Would a Sacramento-based conglomerate really let the Maloofs keep their paws on the team? 
Mayor: Maloofs 'can participate in some way' in new local ownership group 'if they want to remain a part of this team and this community.'

— Ryan Lillis (@Ryan_Lillis) January 15, 2013

So you see again how Kevin Johnson is maneuvering here. He's gotten another audience with the NBA's Board of Governors to show them how much ground support there is in Sacramento along with political and financial backing. He's got the possibility of putting together a very lucrative offer to match the Seattle offer, taking away that element from the discussion, equalizing it, at least after relocation fees. And he's gone on record as offering to give the Maloofs the control that the other group won't offer. 
He's boxing the Maloofs in a corner. The NBA in that situation would be forced to ask "Why wouldn't you just take the Sacramento deal?"
Answer: "Because the market isn't sustainable." Response: "But their entire presentation proves that's not the case." 
Answer: "Because the other offer is better." Response: "But they've matched the offer outside of the relocation fee you'd lose anyway." 
Answer: "Because we want control of the franchise in some way." Response: "The mayor has already offered that to you."
It gives David Stern, who has hustled and bustled in a very non-traditional and unexpected way against the wills of NBA ownership in the Maloofs to maneuver the Board of Governors against their efforts to relocate, an out to do it again. 
This thing continues to percolate and develop with every day, and one thing's certain. 
Sacramento is prepared for this fight, and they're going to go down swinging. Seattle hasn't stolen the Kings yet. 
Teodosic had to leave the Clippers' game Saturday night against the Suns

Irving said recently that he does not regret the profane outburst

Wade is having a rough start to his first season playing in Cleveland
Greek Freak scores career-high 44 points and reaches scary level to finish the game

It was an ugly finish as the Warriors fell to 1-2 on the season -- both Curry and Kevin Durant...

Mirotic was hospitalized with facial fractures after an altercation with Portis during pra...