Sam Hinkie rode with Evan Turner to the airport after trade to Pacers
When the Philadelphia 76ers traded Evan Turner to the Indiana Pacers, Sixers GM Sam Hinkie rode with Turner to the airport.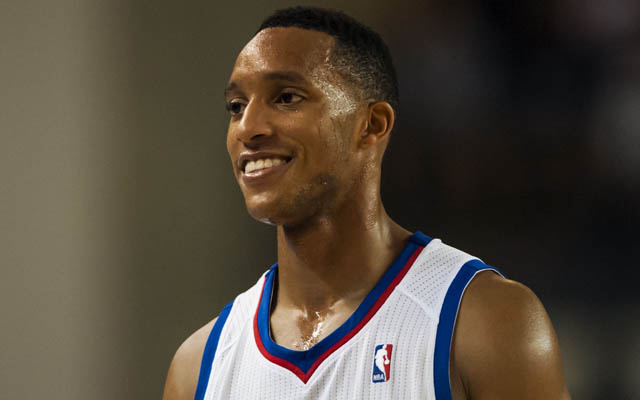 When Evan Turner wasn't offered a contract extension before the season got going, he said Philadelphia 76ers general manager Sam Hinkie, who had just taken the job that offseason, wasn't his GM. The writing was on the wall that Hinkie was not planning on putting Turner in his long-term rebuilding blueprints. It was only a matter of time until Turner was shipped out of Philadelphia.
At the last second of the trade deadline, Turner was sent with Lavoy Allen to the Indiana Pacers for Danny Granger. Sam Hinkie officially wasn't Turner's GM any longer but Hinkie still decided to show Turner respect on his way out. After trading him to a contender, Hinkie decided to accompany Turner on his way to the airport. From CSNPhilly.com:
There's an old joke about volunteering to drive an unwanted player to the airport just to get him out of town. Except when the Sixers traded Evan Turner to Indiana, it wasn't a joke. Sam Hinkie actually hopped in the car with Turner and took him to catch his flight. That had to be an awfully strange ride. 

"It was random, for sure," Turner said. "But I can shoot the s--- with anyone. It was cool, man. Hinkie is definitely a cool guy. He comes off as reserved. Sometimes you don't really know what to take from him at first, but he talks and he's cool and he has pretty cool stories. It was just a kind gesture. I appreciate that."
That is certainly a random act of respect by Hinkie but it's a classy move by a guy who didn't just trade his second best player to just any team. He sent him to a team that could legitimately win a championship this season and saw him off to the airport in the process. Considering we've heard of plenty of players finding out they were traded via Twitter or they were doing a season ticket holder event for the team that traded them away (Eric Gordon), this is a great gesture. 
Turner spoke about the different style of Rod Thorn, the man who brought him to Philly, and Hinkie, the man who shipped him out.
"I barely saw him, as opposed to the Rod Thorn situation," Turner said. "Rod was my man, you know what I'm saying? He could scold me, and then we could talk about something else later. Sam is a different GM and a different president. He does things a little bit differently. We spoke, and there wasn't any hostility. It wasn't anything negative or anything like that."
Except for the fact that the Sixers didn't end up with a first round pick for Turner, it seems like everything worked out for all parties involved.
A look at the context of the schedule and who plays who when, and how far they travel during...

Durant took on rapper Lil Dicky and actually might have lost

A report that James would once again be leaving Cleveland made the rounds on Wednesday
Known for his 'take that for data' rant, the Grizzlies coach touched on a number of important...

Wade's days with the Chicago Bulls appear to be numbered

Misty Suri will reportedly keep his job with the New Orleans Pelicans