Sam Presti: Amnestying Kendrick Perkins not considered 'to this point'
Oklahoma City general manager Sam Presti said on Thursday that the front office had not considered using the amnesty provision on center Kendrick Perkins.
• 1 min read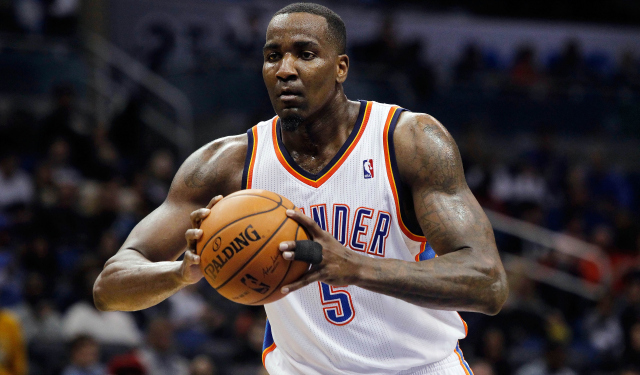 More Offseason Analysis: Coaching changes, news | Free Agency | Draft
Oklahoma City Thunder general manager Sam Presti was not surprised on Thursday when asked about using the amnesty provision on center Kendrick Perkins, via the Oklahoman's Anthony Slater. While it seems only a matter of time before Steven Adams takes Perkins' starting spot, Presti once again took it as an opportunity to praise the veteran.
"I knew I'd get that question," Presti said. "I wish I had something clever to say there, but I don't. We'll look at everything, as we always do. But as we've said before, it's not something that's been considered to this point."

…

"Quite honestly, we'd be having this press conference a lot sooner if he was not part of the organization when we took the floor against Memphis," Presti said, referring to Perkins defense on Zach Randolph in the first round. "This conversation probably would be happening in May, and not June."

…

"He's been wonderful for Steven Adams," Presti said. "I think he's had a lot to do with Steven's growth, especially in the postseason, specifically how he studies and plays position defense."
Perkins averaged 3.4 points, 4.9 rebounds and shot 45 percent from the field in 19.5 minutes per game this season, posting a PER of 6.32. As has been the trend season after season, the Thunder were significantly better on offense and a bit better on defense with him on the bench throughout the regular season. When Perkins last met the media, he called this summer "the biggest off-season of my career," as he is heading into a contract year, via the Oklahoman's Darnell Mayberry.
The organization did not want to amnesty Perkins in the past with so much salary still coming his way, but now that he's only owed $9.4 million, it appeared it could be the right time. Presti threw cold water on that, but it is important to note that he left the door open to the possibility by saying "we'll look at everything" and it hasn't been considered to this point. Depending on what other moves Oklahoma City makes, his stance could change.
Oklahoma City has reportedly offered the MVP a five-year extension worth over $200 million

The big man was a big part of the Warriors' championship run last season

The Cavs jokes were out in full force after Golden State reportedly agreed to sign Antonius...
New York seems to be at the top of Irving's list of preferred destinations

Is it just a normal workout, or is LeBron continuing his recruiting efforts?

Chris Bosh answered on the spot about the LeBron James and Kyrie Irving situation