Samuel Dalembert benched for oversleeping, missing shootaround
Samuel Dalembert was benched for the first quarter of the Dallas Mavericks' loss on Monday because he overslept for shootaround.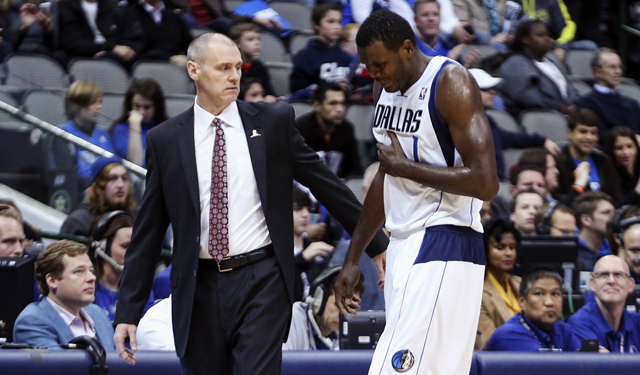 If you were wondering why you didn't see Samuel Dalembert in the starting lineup for the Dallas Mavericks Monday night, DeJuan Blair started at center for the team because Dalembert overslept for Monday's shootaround. There are no excuses being doled out by Dalembert on the matter either. He takes full responsibility for the mistake and is apparently pretty upset with himself over it. From ESPN Dallas:
Center Samuel Dalembert apologized to coaches and teammates after oversleeping and missing the Mavericks' Monday shootaround, which led to him being benched for the first quarter of Dallas' loss to the Denver Nuggets. 

"I'm very disappointed in myself," said Dalembert, who had two points, two blocks, three rebounds and three fouls in 18 minutes off the bench. "I don't have an excuse. It shouldn't happen. I'm still trying to get over it. I'm very upset." 

"Just saying it frustrates me. It pisses me off. I shouldn't put myself in that situation." 

Dalembert has been playing with bruised ribs, but his injury had nothing to do with missing the shootaround. He appeared to be visibly upset while discussing the situation with the media. 
Carlisle apparently isn't guaranteeing that Dalembert will automatically be granted access back into the starting lineup for the next game. Dalembert had conditioning issues that Carlisle spoke freely about during training camp and the preseason, so this isn't the first problem the Mavs have had with their center since he joined the team this offseason.
However, the fact that Dalembert is supposedly showing actual remorse over the issue may lead to him being quickly inserted back into the starting lineup. He played just 18 minutes off the bench in the 14-point loss to Denver. 
George Hill, who is unhappy in Sacramento, could be a solution to Cleveland's backcourt si...

Shaquille O'Neal and Sir Charles cruise to an easy victory over some hot peppers

If Charlotte indeed moves its star guard, there's going to be more people impacted than just...
Trading Kemba Walker (and dumping salary in the process) may be harder than expected for C...

Our advanced computer model simulated Friday's Jazz-Knicks game 10,000 times

There was some explosive guard play this week in the NBA's rookie class