San Antonio Spurs being sued over sending players home against Heat
A lawyer filed a lawsuit against the San Antonio Spurs for violating a state law when they sent Tim Duncan, Tony Parker, Manu Ginobili, and Danny Green home before a November game.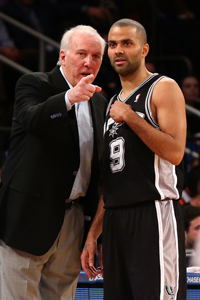 'I have to put you on the court so we don't get sued.'
(Getty Images)
Remember when San Antonio Spurs coach Gregg Popovich sent home four of his players before a nationally televised game against the Miami Heat and was fined $250,000 for it?
Well, so does a lawyer who just filed a suit against the team in Miami-Dade County, citing that the Spurs broke a state law regarding "deceptive and fair trade practices." According to ESPN.com's Darren Rovell, Larry McGuinness filed a class action lawsuit against San Antonio for sending Tim Duncan, Danny Green, Tony Parker, and Manu Ginobili home before their game against the Heat on Nov. 29, 2012.
On Monday, Larry McGuinness filed a class action suit in Miami-Dade County, stating that the team's head coach, Gregg Popovich, "intentionally and surrepticiously" sent their best players home without the knowledge of the league, the team and the fans attending the Nov. 29 game against the Heat. McGuinness contends that he, as well as other fans, "suffered economic damages" as a result of paying a premium price for a ticket that shouldn't cost more.
This is... kind of ridiculous. 
Just when you thought this story was over and that the Spurs had paid their debt to society (the NBA), they're now going to have to go to court over this class-action lawsuit. There seemed to be mixed emotions about this debacle at the time. There were some people who believed it was despicable of Popovich and the Spurs to do this without notifying the league or fans going to the game. But I don't really understand what notifying the league would have done.
There wasn't an alternate game to put on TV at the time, and Popovich felt it was best to give his guys an extra day of rest by not having to stay on the road any longer. As far as the fans who ended up paying money to attend that game, they had to sit through the horror of a close 105-100 victory by the Heat over the Spurs in a game that probably turned out being more interesting and historical than if both teams had been at full strength.
The other side of the argument was Popovich should coach his team how he and the organization see fit. If he's not allowed to do that by the league, then it gets into some murky territory. Not to mention, there's often the chance that players will be injured and unable to play certain games. However, McGuinness has an answer to that scenario:
"It was like going to Morton's Steakhouse and paying $63 for porterhouse and they bring out cube steak," said McGuinness, who said he bought his ticket on the resale market. "That's exactly what happened here."
Actually, it was like going to a basketball game, finding out the best Spurs players weren't going to be playing, and then watching an incredibly competitive game that went down to the wire. McGuinness argues that a Spurs team at full strength could have given them a more exciting game. It also could have given everybody a less exciting game.
Sometimes teams at full strength play exciting basketball games. Sometimes teams at full strength don't play exciting basketball games. It's why games are played on the court and not on pieces of paper. When your argument appears to be, "yeah, but what if ..." then it's going to be hard to believe you're not wasting the court's time with a potentially frivolous lawsuit.
Westbrook's late layup gave the Thunder a 109-108 victory

LeBron became the seventh player in league history to reach the milestone

There were a few things that stood out from Tuesday's All-Star selections
Here are three players from each conference who had legitimate claims to make the game

LeBron achieved the milestone in the first quarter Tuesday

Here are the full lineups for the 2018 NBA All-Star Game