Sanders defends use of marijuana after five-game suspension levied
Milwaukee Bucks center says he "believes in marijuana" while apologizing for suspension after testing positive for it.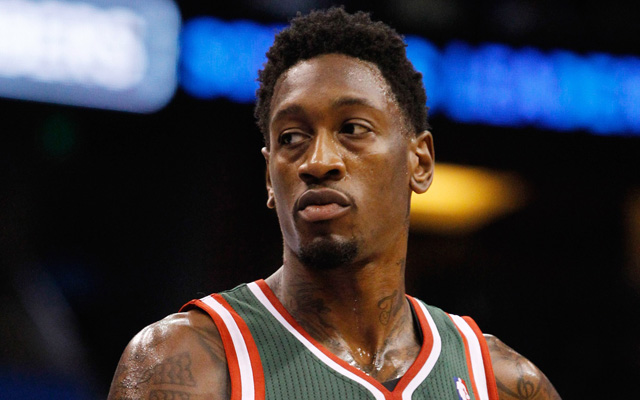 More NBA: Power Rankings | Expert Picks | Seasons in Review | Playoff Picture
Milwaukee Bucks center Larry Sanders apologized Friday for his five-game suspension for violating the NBA/NBPA anti-drug policy. But in an interview with the Milwaukee Journal-Sentinel, he defended his use of marijuana that resulted in the multiple-positive test that led to the suspension. 
"It's something I feel strongly about, just to let you know something personal about me," Sanders said in an interview with the Journal Sentinel and nba.com. "I will deal with the consequences from it. It's a banned substance in my league. But I believe in marijuana and the medical side of it. I know what it is if I'm going to use it.

"I study it and I know the benefits it has. In a lot of ways we've been deprived. You can't really label it with so many other drugs that people can be addicted to and have so many negative effects on your body and your family and your relationships and impairment. This is not the same thing.

"The stigma is that it's illegal. I hate that. Once this becomes legal, this all will go away. But I understand for my work it's a banned substance. I will deal with the consequences and I apologize again to my fans for that."
via Bucks' Larry Sanders defends his marijuana use.
That's basically "I'm really sorry for my suspension for something I'm not sorry I did," or "I'm sorry I got caught." 
The ethics and legality surrounding the use of marijuana have become murkier in recent years, with Washington and Colorado legalizing its use on a state level. This has not altered the NBA's policy towards it, nor Wisconsin state law.
Sanders will serve the suspension starting next season due to a face injury that has ruled him out for the rest of the 2013-2014 season.
Trail Blazers guards Damian Lillard and C.J. McCollum have been pushing for Anthony to join...

Anthony reportedly gave the Knicks an expanded list of teams he'd waive his no-trade clause...

The Suns will also receive a second-round pick in the deal
Kerr noted Warriors are deeper than the NBA championship team of last season

The Dubs will make a decision as a team on visiting the White House, but Steph would vote...

Wolves are an up-and-coming NBA squad, but this region knows heartache too well