Savvy Mavericks remind Thunder of their playoff identity
The venerable Mavericks beat the Thunder with clutch shots and veteran plays as Dallas sneaks back into the eighth spot in the Western Conference.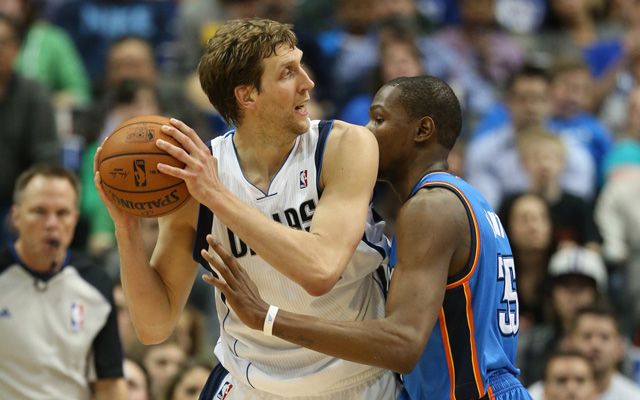 More NBA: Power Rankings | Expert Picks | Latest news, notes
The race for the eighth seed in the Western Conference is beginning to resemble one of those movies where the hero/villain keeps coming back at the very last minute, only there are three heroes/villains who all are unkillable. On Tuesday, the Mavericks entered their game vs. the Thunder out of the playoff picture, with the Suns having snuck into the eighth spot ahead of them. They were facing the Thunder, who have been a major problem for Dallas since the Mavs took out OKC in the 2011 Western Conference finals.
And then Dallas, with all their defensive issues, found a way to get back into control of their own destiny.
It was a game that defines the late-season NBA, at least the one that isn't tanking. Huge shots, over and over again, as Kevin Durant and Dirk Nowitzki matched daggers.
Dallas' best hope for a playoff run lies with Nowitzki, obviously. But against the Thunder they showed another weapon. It's easy to forget in the regular season with the athleticism, but the Mavericks are stocked with veterans. Vince Carter, Shawn Marion, Jose Calderon, Monta Ellis, they're all experienced players, and while Calderon and Ellis have never been part of deep playoff runs, they know how to execute.
Dallas is never going to win games with their defense, but what gave them the edge vs. OKC was the ability to settle into a veteran groove and execute while Oklahoma City got ahead of itself and tripped on its own youth. Whether this is reflective of OKC's actual identity is to be decided in the playoffs, but on the surface, it does give life to Dallas' hopes for an unlikely Cinderella push.
And if nothing else, it showcases why Dallas has been so hard to kick out of their perch at the end of the Western standings. Even with Phoenix the "it" team for so many months and the Grizzlies having been chasing them down like a rogue Mack truck, Dallas has stayed one step ahead. Every time they've fallen out of the playoffs, they've burst back in. Getting wins late in the season against better teams takes away one more opportunity for Memphis or Phoenix to capitalize. And it gives the Mavericks confidence.
There are some teams that play without that confidence, that seem to be playing well because they are without believing they can. Dallas instead is made up of self-belief. From its owner who constructed this team and said it could compete despite shortcomings to the roster full of bitter veterans who hate the disrespect of doubt, Dallas has a firm sense of its own identity, even if their defense so often compromises it.
Through all of it stand two figures who have been there the longest, the keys to that 2011 run (along with Shawn Marion): Rick Carlisle and Dirk Nowitzki. Nowitzki, who some thought might have hit the end of his time as an impact player last year, and Carlisle, tasked with turning a team of traffic cones into a team capable of playoff basketball have put together another remarkable season. Having veterans helps the cause, but few are better than Carlisle at tactical adjustments and weathering storms.
Maybe Tuesday was just you typical regular-season flash, but it also provided the Thunder with a reminder of what beat them in 2011, the Mavericks' know-how and conviction. And there's a good chance that a month from now, the two teams could meet for the rubber match of playoff faceoffs. There are no easy Western Conference matchups, but the idea of seeing Dirk for seven games has to give OKC a little pause, just as the idea of dealing with fully actualized Durant has to keep the Mavericks up nights.
Welcome to the Western Conference, once again stacked with the heroes and villains who just never seem to die.
Cavs star chose to be very secretive when talking to Lakers rookie after Thursday's game

New York announced Porzingis would not return shortly after star forward left game

Teletovic missed the final three months of 2014-15 season with Nets recovering from same i...
Keep it right here for all of the news, notes, scores and highlights from around the leagu...

The NBA's City edition Nike jerseys are bold and very different

The Wolves may be smoke and mirrors, but the Pacers have the look of a team that can hang in...