Schooled again by the Celtics, 'championship-or-bust' Heat are on the brink
MIAMI -- Behind 26 points and 11 rebounds from Kevin Garnett, the Celtics rendered the Heat's dynamic duo of LeBron James and Dwyane Wade irrelevant Tuesday night in a 94-90 victory that gave them a 3-2 lead in the Eastern Conference finals.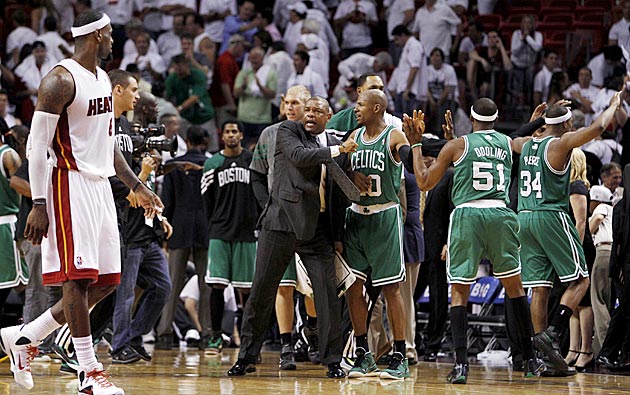 Will LeBron James and the Heat ever learn how the Celtics win big games? (AP)
MIAMI -- The sequence that typified what the
Celtics
are made of, and what the
Heat
are not, came with about 2½ minutes left in the fourth quarter -- winning time in Game 5 of the Eastern Conference finals.
Mario Chalmers
had just hit a 3-pointer to give the Heat a one-point lead, and the Celtics came back the other way and calmly ran their offense. Ran their "stuff," as their coach, Doc Rivers, likes to call it. 
Ray Allen
drove the lane and lost the ball, and it was a scramble on the floor, the tipping point of the series.
Rajon Rondo
-- who else? -- came up with it, somehow got it to
Paul Pierce
, who found a wide-open
Mickael Pietrus
in the corner for a 3-pointer.
Down it went. Down went
LeBron James
,
Dwyane Wade
and the Miami Heat, the team that was built in the image of the Boston Celtics -- for the sole purpose of beating them, with the talent to beat them again this postseason, but not the intangibles.
More on Celtics-Heat
Related links
Video
Not the heart.
It was 94-90 Boston when the buzzer sounded on Game 5 on Tuesday night, the Celtics taking a 3-2 series lead back to Boston -- one win away from their third trip to the
NBA
Finals in five years. One win away from decimating the team that set out to do that very thing to them.
"Desperation," is what Wade called it in the home locker room. " ... I never thought we'd be in this situation."
They are, because the Celtics -- with more championship instincts and will than the Heat have been able to muster in this two-year experiment with their own Big Three -- put them there.
"It was just one of those games when we were locked in," Pierce said.
If Pierce's pass to Pietrus for the 3-pointer that gave Boston an 85-83 lead with 2:11 left was his biggest play, what happened next was his most cold-blooded one. And Pierce is nothing if not cold-blooded.
With the Celtics clinging to an 87-86 lead after trailing by as many as 13, Pierce sized up James on the left wing. As soon as he saw Pierce's posture and footwork, Rivers knew the shot was going up.
"I've been around Paul long enough," Rivers said. "Right when he gets into the footwork, you knew he was going to shoot it. ... I didn't know if I wanted that shot. I thought he was going to drive it."
So, too, apparently, did James.
"I saw him back up," Pierce said. "He gave me a step. I knew it was within my range."
Up it went. In it went -- a 3-pointer right in James' face that gave the Celtics a 90-86 lead with 52.9 seconds left, a lead they would never relinquish.
"Big shot," James would say later in the locker room. "... That's what big-time players do. They make big shots."
That's what the Celtics' big-time players do, anyway. And even when they don't, they find a way.
Boston moved within one win of the Finals despite Rondo shooting 3 for 15 (seven points, 13 assists), Pierce shooting 6-for-19 (19 points) and Allen shooting 2 for 9 -- 1 for 4 from 3-point range (13 points).
Kevin Garnett
led the way with 26 points and 11 rebounds -- the player who started the modern trend of going from high-school to the NBA outperforming the Heat's two stars like it was 1995 all over again. 
"He's our life," Rivers said. "He just does so many things that don't have numbers to them. A lot of it is with his voice. He's, in a strange way, a calming effect on some of our guys. If you can ever call Kevin that, he is."
James had 30 points, Wade finished with 27, and 
Chris Bosh
 made his first appearance of the series with nine points and seven rebounds in 14 minutes.
But Bosh didn't play in the fourth quarter, and James might as well not have, either. He attempted only six shots -- two of them 3-point attempts (he made one) and one of them a foul-line jumper (he missed). Of the Heat's 21 field-goal attempts in the fourth, 12 were jumpers -- eight of which they missed as Rivers cleverly disguised his zone defense and had the Heat on their heels. Despite getting into the bonus with 6:40 to play, Miami attempted only four foul shots the rest of the game.
Asked if the Heat were still searching for the right way to attack the Celtics, James said, "I don't think we have the answer yet in this series. ... We went stagnant a little bit."
A little bit? At one point, after the Celtics had closed the third quarter on a 15-1 run, Heat coach Erik Spoelstra said in the sideline interview broadcast on ESPN, "They have us a little bit twisted in the mind." And that about summed it up. Appropriately enough, the tune
Insane in the Membrane
 filled American Airlines Arena at the time.
"We're not going to have any excuses," said Wade, oddly wearing black-rimmed eyeglasses with no lenses for the postgame interview at his locker. "They beat us. They came in our house and they got one, so we've got to do the same."
On the brink of a second successive crushing and improbable ending, the Heat have to go to Boston for Game 6 Thursday night -- go to a place where they won Game 4 on their way to a 4-1 victory in the conference semifinals last year. But it was their only victory in Boston in the past 16 games. James, upon whose shoulders the pressure will rest, has lost eight of his past 10 playoff games there.
"We have no other way out," James said, "but to win and extend the series."
No other way out but to win it all, is how Wade described the Heat's predicament before the season, when he said, "If we don't win a championship, yes, it's a bust."
"Yup," he said at his locker Tuesday night, when reminded of the quote.
Time to find out what the Heat are made of, because we learned again Tuesday night what's inside the Celtics.
Trevor Ariza and Gerald Green are reportedly both suspended two games

Jonah Keri talks with NFL and NBA broadcaster Ian Eagle

SportsLine simulated Wednesday's Nuggets-Clippers game 10,000 times
Galin Dragiev has his finger on the pulse of the Lakers and just locked in a play for Wedn...

No more McNuggets allowed in the Barnes household

Leonard has played in only nine games this season for San Antonio