Scott Brooks: It'd 'make a lot of sense' for Fisher to coach Knicks
Oklahoma City head coach Scott Brooks said Derek Fisher "will make a great head coach."
• 1 min read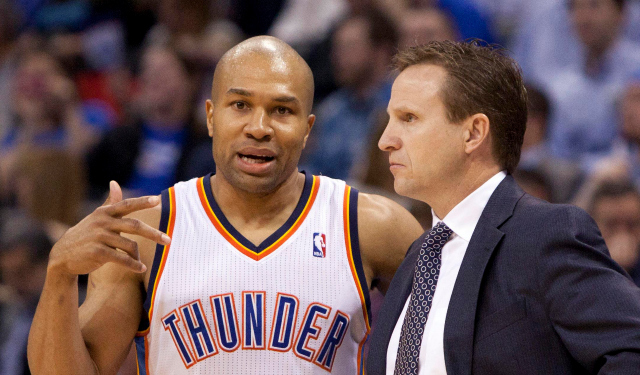 More Offseason Analysis: Coaching changes, news | Free Agency | Draft
While the Oklahoma City Thunder are in the middle of chasing a championship, backup point guard Derek Fisher's name has surfaced in reports about the New York Knicks head coaching job. He has no coaching experience, but played for the Los Angeles Lakers under Knicks president Phil Jackson for nine seasons. Oklahoma City head coach Scott Brooks said that the 39-year-old has not ruled out playing another season, but would be a good candidate once the playoffs are over, via the New York Daily News' Frank Isola:
"Derek will make a great head coach," Brooks told the Daily News on Saturday. "He's smart, he knows the game and works hard. He's also played for one of the greatest coaches in sports history . . . and I'm not talking about myself, by the way."

…

"I think it would make a lot of sense for Derek to coach in New York. But there's no rush. If they wait a few more weeks they can talk to him. I don't think Phil would talk to him now anyway because Phil has too much respect for the game and Derek. He knows how hard it is to accomplish what we're trying to do here. But I hope they do speak at some point."
Fisher is one of those guys who has always been seen as future-coaching material. That doesn't mean, however, that jumping right into a gig as high-profile as this would make sense immediately after retirement. Just because Jason Kidd made that transition with the Brooklyn Nets doesn't necessarily mean it should become the standard. Fisher won't want to talk about it much until the Thunder are done, but it'll be interesting to see if he even wants to do things this fast. In the meantime, Jackson should keep all of his options open.
Is this rock bottom for the Cavaliers because it sure feels like it is

Wade, as he's done so many times in his career, threw it up to LeBron for the thunderous f...

The Warriors coach added there should be no shame in being picked last since everyone's an...
We've got all the scores, highlights and news from all of Saturday's games

The two teams have reportedly not had any substantial discussions to this point

Oladipo may be getting most of the shine, but this second-year big man has been phenomenal...