Season in Review: R.I.P. New York Knicks
With the New York Knicks' season coming to a close without playoffs once again, it's time to reflect on the positive and negative from their season.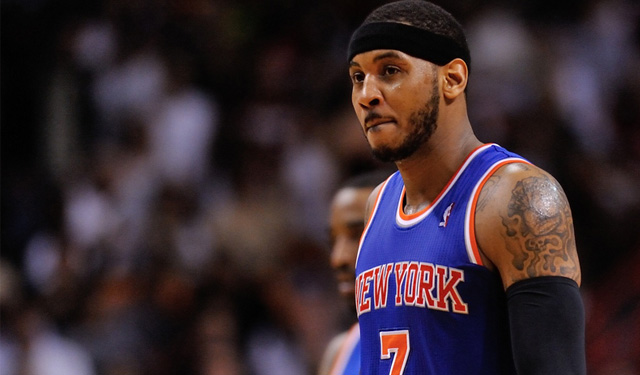 More NBA: Power Rankings | Expert Picks | Latest news & notes
With the New York Knicks' season coming to a close without playoffs once again, it's time to reflect on the positive and negative from their season. It's also time to look ahead for them to see what work must be done during the summer when they'll have an important draft pick and a lot of decisions to make.
What went wrong: In a word: everything.
What didn't go wrong for the New York Knicks this season? They actually traded for Andrea Bargnani and gave up a first round pick in the process as a(n) (over)reaction to the Brooklyn Nets trading for Kevin Garnett and Paul Pierce. They gave J.R. Smith a deal over multiple seasons while guaranteeing his brother Chris Smith a roster spot in the process. J.R. should always be on one-year contracts. 
Then everything that made the Knicks unpredictable and successful last season when they won 54 games seemed to be forgotten and perhaps that went out the window when Jason Kidd left the team to coach the Nets. They didn't move the ball anymore. They didn't shoot nearly as many 3-pointers as they used to. They took fewer shots from inside the restricted area and took a lot more inefficient midrange shots. 
They had the time Andrea Bargnani took one of the worst shots in team history. Then J.R. Smith tried to one-up him a couple weeks later. It took way too long for Mike Woodson to realize they are at their best when they go small. Tyson Chandler only played in 55 games and Raymond Felton only missed 17 games. This was an atrocious season for the Knicks after being inexplicably good last season. 
Bright spots: Phil Jackson decided to take over the front office of the Knicks.
That brings in a potential Pat Riley type of figure into a bumbling Knicks organization that will probably still find a way to let James Dolan sabotage anything good Jackson may build. Jackson will get a chance to bring in some Zen to a chaotic organization and some basketball expertise that could shape them back into the title contending ways they showed 20 years ago. 
But this is the only real bright spot they've had all season long and this didn't happen until mid-March. I guess we can count Tim Hardaway Jr being a pretty decent rookie as a bright spot but I don't think he quite did enough to make it truly bright. It's more like a faint alley light that could either be leading you to a really cool speakeasy or to your imminent doom. Maybe it's leading you to both?
Things were so bad at one point that I almost made a joke here about Bargnani getting hurt as a bright spot but that would have been uncalled for. It was that bad though.
2013-14 MVP: Carmelo Anthony.
Right before he enters free agency, Anthony quietly had a really good individual season. He averaged 27.4 points and 8.1 rebounds while shooting 45.2 percent from the field and 40.2 percent from the 3-point line. His PER (24.4) was pretty much identical to what he put up last season (24.8), but he did it with 500 more minutes played and 10 more games. He was really good on the offensive end of the floor and the team was surprisingly better with him on defense when he was on the floor rather than on the bench.
He still wasn't good on defense but there was a 3.2 points per 100 possessions improvement with him playing. The Knicks were 5.5 points per 100 better offensively with him in the game, as well. But ultimately, none of it meant anything and he ended the season with a torn ligament in his right shoulder that will not require surgery. He heads into the offseason having to decide between winning somewhere else or staying with the Knicks for a lot of money.
2013-14 LVP: Pick one.
- Raymond Felton drove Knicks fans insane all season long and was a horrendous NBA player throughout this campaign. He shot 39.5 percent from the field this season.
- Andrea Bargnani playing another three weeks would have caused the fan base to burn down Madison Square Garden.
- A late surge in March and April brought J.R. Smith's field goal percentage just over 40.0 percent. He also said cryptically Instagram'd that the team betrayed him by cutting his brother who had no business being on an NBA roster. The fact that I had to type that Smith "cryptically Instagram'd" is kind of weird to do for your job. 
- The team only had four players over the league average in PER and one of those was Cole Aldrich, who played 290 minutes this season.
What's ahead this summer for the Knicks: Figure out where they're headed.
Jackson is getting $12 million a year so he can figure out how to fix the Knicks. Not "fix the Knicks" like this. He'll have to make crucial decisions right away that will either make this team a total embarrassment or they can buck status quo and start rebuilding. Jackson can decide to re-sign Melo for close to the max or the max while crippling their cap flexibility in the future, or he can let him walk or force him to take a reasonable deal to stay.
He'll have to wait a year until Bargnani and Amar'e Stoudemire are off the books. Chandler and pretty much everybody else would be off the books too in 2015. The Knicks would also have their first round pick in 2015, so if they let Melo walk, trade Chandler for assets, and just bide their time while being predictably horrendous instead of hilariously inept, they could have a top pick in 2015 when their are a lot of big man prospects and a ton of cap space to spend.
Jackson will also have to decide what to do with the coaching situation and likely put his own type of coach in place. We'll get to see just how hands off Dolan is going to be in the future and how much Jackson is allowed to do on his own.
We've got all the scores, top plays and news from a busy NBA Friday

Our advanced computer model simulated Saturday's Magic vs. 76ers game 10,000 times

Several playoff contenders could use the services of Ilyasova, who's nearing a buyout agre...
Durant says he probably wouldn't have gone to college because he 'needed the money'

Ball, who has missed the last 15 games with a sprained MCL, will be on a minutes restricti...

Larry Hartstein is in the midst of his best run of the season and released a pick for Mavericks...