Season in Review: R.I.P. Philadelphia 76ers
With the Philadelphia 76ers officially eliminated from the playoffs as they execute a rebuilding plan, we take a look at what happened this season and what lies ahead.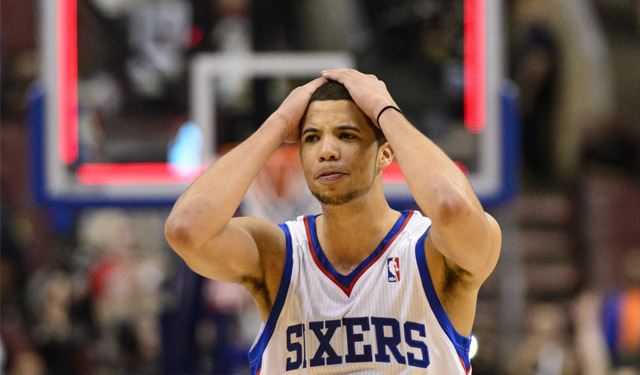 More NBA: Power Rankings | Expert Picks | Latest news, notes
With the Philadelphia 76ers officially eliminated from playoff contention, it's time to reflect on the positive and negative from their season. It's also time to look ahead for them to see what work must be done during the summer when they'll have an important draft pick and a lot of decisions to make.
What went wrong: Technically, everything went right for the Sixers as they began a rebuilding process. Last season, the Sixers were supposed to be making a move toward being one of the best teams in the East with the acquisition of Andrew Bynum and the emergence of Jrue Holiday and Thaddeus Young as fantastic talents in the league. Unfortunately, Doug Collins asked them to constantly take long, inefficient 2-point shots and Bynum didn't play a second of basketball for the Sixers. 
On draft night, new GM Sam Hinkie shocked the NBA world when he traded Jrue Holiday to the New Orleans Pelicans for the draft rights of Nerlens Noel and the Pelicans' 2014 first round pick (top 5 protected). It was at that moment we knew the Sixers were in for a load of losses during the 2013-14 season. That's exactly what has happened. After being surprisingly competitive through the first 15 games of the season when they went 6-9, they've bottomed out and then dug a deeper hole to bottom out even more. After trading Evan Turner and Spencer Hawes at the trade deadline, they don't look capable of winning games anymore.
They're chasing the Milwaukee Bucks for the worst record in the NBA and have made a huge push for it with their current 23-game losing streak, which is tied for the third longest in league history. The Bucks still have the worst record in the league by two games, but if the Sixers don't plan on winning the rest of the season, they're likely to get there.
Bright spots: Michael Carter-Williams can really play. After a poor showing in the Orlando Summer League and not doing much aside from a couple of brief flashes during the preseason, Carter-Williams surprised us all by shooting out of the gates as the top rookie of the 2013-14 season. He's embraced a chaotic style from Brett Brown's system and has been putting up impressive counting stats throughout the season. 
His shooting percentages have been rough since a hot start, but averages of 16.9 points, 6.3 assists, 6.0 rebounds, and 1.9 steals have him battling Victor Oladipo for Rookie of the Year.
2013-14 MVP: Thaddeus Young.
Everybody was hoping Young would be moved at the trade deadline so he could play some meaningful basketball this season. He didn't get moved like Turner and Hawes, mostly because Young was the best player of the lot and there wasn't any way the Sixers could possibly move him without getting a first round pick in return. As they rub his back and try to tell him everything will be OK in the future with this team, he's been playing some very good basketball this season.
He leads the team in PER with a 17.3 and he's the leading scorer on the team with 17.9 points per game. He's also grabbing 6.1 rebounds, getting 2.2 steals per game, and making 46.1 percent of his shots. For his sake, hopefully he'll get moved this summer -- maybe on draft night -- and he'll get to bleach this season from his brain. 
2013-14 LVP: Spencer Hawes.
Hawes is probably the LVP for the Sixers this season, not because he played poorly, but he might have played too well during the early parts of the campaign. He may have had the best month of his career in November when he averaged 15.9 points, 10.3 rebounds, and 3.1 assists while shooting 51.2 percent from the field and a ridiculous 47.4 percent from 3-point range. He was a big part of that 6-9 start, which may end up costing them a shot at the worst record in the league and the best lottery odds in May.
What's ahead this summer for the Sixers: These guys didn't tank so that they could take it easy this summer.
Assuming the Pelicans don't get lucky in the lottery and find themselves with a top 3 pick, the Sixers will have two lottery picks to use in a loaded class. They're likely to grab their next star of the franchise with the first pick and a really good secondary player with the other lottery pick. Once they do that, they'll have a young core of Carter-Williams, Noel, Young (?), the two first round picks, and roughly $30 million in cap space to use on free agents and in trades,
It's possible they'll go through one more intentional losing season as they try to bring in more assets to build with, but they only have MCW, Noel, Young, Jason Richardson (player option he's unlikely to decline), Tony Wroten, and Arnett Moultrie definitely under contract. They still have all of the potential for acquiring assets and roster flexibility you can possibly want with a rebuilding team like this. And next season, they'll be more exciting for longer as they build up hope and credit with their fan base.
Bagley wants to be in the 2018 NBA Draft and should be the No. 1 overall pick

Durant helped build the court in Manhattan as part of his community outreach program

Prince will be a special assistant to Memphis GM Chris Wallace
He speaks out at a LeBron James Family Foundation event; he tweeted about Charlottesville on...

Smith was at the event to support his Cavaliers teammate

Trade talks involving Irving have seemingly stalled in recent weeks