Season in Review: R.I.P. Sacramento Kings
With the Sacramento Kings officially eliminated from the playoffs as they execute a rebuilding plan, we take a look at what happened this season and what lies ahead.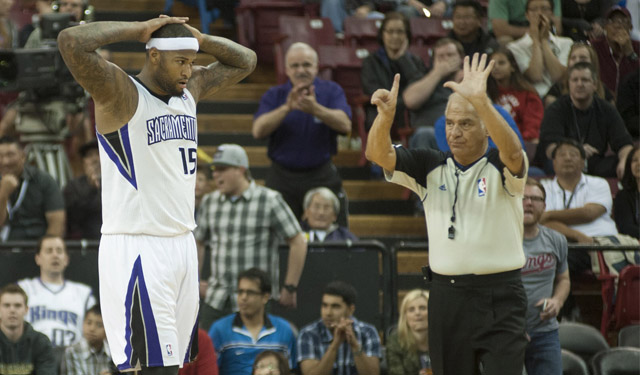 More NBA: Power Rankings | Expert Picks | Latest news, notes
With the Sacramento Kings officially eliminated from playoff contention, it's time to reflect on the positive and negative from their season. It's also time to look ahead for them to see what work must be done during the summer when they'll have an important draft pick and a lot of decisions to make.
What went wrong: Michael Malone couldn't turn them into a defensive unit right away.
After all of the uncertainty surrounding this franchise in the past few years, new owner Vivek Ranadivé, new GM Pete D'Alessandro, and new coach Michael Malone look to be the trio ready to move this franchise away from being a laughingstock and toward being a team the rest of the league has to take seriously again. But you can't undo a half-decade of buffoonery in just one offseason. 
The Kings have been aggressive in trying to acquire players they believe they can turn into vital members of this roster. They made a trade for Rudy Gay by giving up Patrick Patterson as the best asset they were sending in the deal and then traded Luc Richard Mbah a Moute to the Minnesota Timberwolves to acquire Derrick Williams. They immediately seemed to make Gay into the type of player he's supposed to be, as an efficient scorer who is ready to take big shots. Williams has shown flashes of being a solid contributor here and there, but the same inconsistencies he sports in Minnesota have followed him to Sacramento.
As for the rest of the team, Malone has seemed to make it pretty clear that if you're not trying on defense, you're not getting consistent minutes. It's led to some curious lineup choices from time to time, but it's the part of establishing a winning culture a new coach must do when he's trying to turn a bad franchise around. The results haven't been staggering but the team has been improved over last year. They've gone from the second worst defense in the NBA giving up 108.6 points per 100 possessions to the 24th defense in the league with a rating of 105.9.
The team clearly isn't there yet but it's a start. 
Bright spots: Isaiah Thomas.
Sure, the diminutive point guard out of Washington is in a contract year and looking to go from being the last pick in the draft into a lucrative restricted free agency situation this summer, but that has helped the Kings find a pretty dynamic scorer in their backcourt. He hasn't been your typical distributing point guard by any means, but he's managed to shed some of that stigma that he's not a true point guard.
He's averaged 6.3 assists and is the team's second leading scorer at 20.5 points. He's tied with Gay for the second best PER on the team at 20.5 as well. We have no clue if Thomas will remain with the Kings past this season as his price tag might be too rich for their luxury tax hovering blood, but he's been a player the fans can rally around in Sacramento and provide some real joy to while the team figures out how to be competitive again.
2013-14 MVP: DeMarcus Cousins.
Yes, he's a guy that seems to be unstable on the basketball court, but he's managed to keep his nose clean off the court. In the process of being less of a problem for the organization in years past, he's been a much bigger problem on the court for opponents after signing a four-year extension worth around $60 million before the season started. Cousins has not only been a monster on the offensive end and the boards, but he's been a much more engaged and improved defender.
He still has a long way to go on defense, but he's assumed a leadership role with the team and is figuring out how to navigate it. He has the highest PER on the team at 25.4 (sixth in the NBA), and his averages of 22.1 points (leads the team), 11.8 rebounds (also leads the team), and 8.7 free throw attempts (you guessed it; this leads the team) have been some of the best basketball this franchise has seen in a long time. He still has a long way to go but the future of Cousins looks a lot brighter and more stable than we previously thought.
2013-14 LVP: Marcus Thornton.
Since being acquired by the Kings back in the 2010-11 season, Thornton was supposed to give this team a fairly dynamic and impactful scorer at the shooting guard position. That happened for the 2011-12 season and since then, he's been an expensive disappointment. He was hardly a contributor to this team at all this season as his shooting and scoring hit career lows. He also rarely played any defense, something that has been a regular occurrence for him throughout his career.
Even when the Kings dealt him at the trade deadline, they only received Reggie Evans and whatever is left of Jason Terry in return. 
What's ahead this summer for the Kings: They can't quite make a big move just yet.
Assuming Gay opts in for the 2014-15 season at his $19.3 million price tag (and nobody expects him to give up that money), the Kings are dangerously close to the luxury tax. It makes the signing of Carl Landry (only played in 18 games) this past summer for four years and $26 million look like a potential detriment to keeping Thomas. Their point guard is hitting restricted free agency and his play warrants a huge raise this summer.
The question becomes can the Kings dip into the luxury tax as a team that is unlikely to compete for the playoffs in the loaded Western Conference next season in order to re-sign or match any offer sheets Thomas receives this summer? The Kings have nine players under contract for roughly $68 million next season and that's not even counting their first round pick they'll have. Unless they can swing an incredible trade, they can't really keep Thomas and avoid the luxury tax, unless he gives them a big discount to stay there.
Do the Kings believe in him enough as a future core player to pay the luxury tax in a likely losing season? This is what they'll have to figure out before free agency begins.
We've got all the scores, highlights and news from all of Sunday's games

The Rockets beat the Warriors 116-108 on Saturday night

The Cavaliers gave up 148 points in their loss Saturday afternoon to the Thunder
Blatt made the comment before coaching in the All-Star Game in Turkey

Is this rock bottom for the Cavaliers because it sure feels like it is

Wade, as he's done so many times in his career, threw it up to LeBron for the thunderous f...