Season in Review: R.I.P. Utah Jazz
The Utah Jazz have officially been eliminated from the playoffs, so we're going to reflect on the positive and negative things of their season before looking to the future.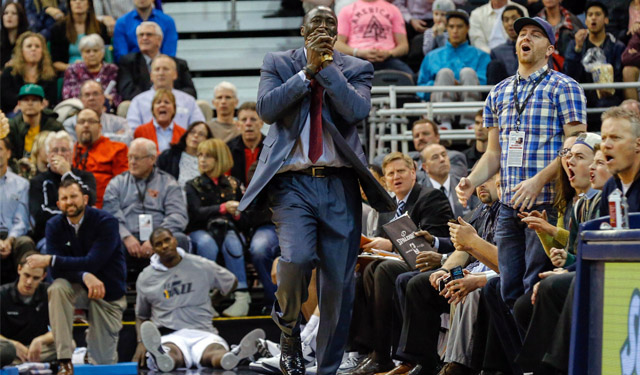 More NBA: Power Rankings | Expert Picks | Latest news, notes
With the Utah Jazz officially eliminated from playoff contention Saturday night, it's time to reflect on the positive and negative from their season. It's also time to look ahead for them to see what work must be done during the summer when they'll have an important draft pick and a lot of decisions to make.
What went wrong: I'm not sure a whole lot actually went wrong for the Utah Jazz this season. This seemed to be the game plan executed quite well. Heading into this season, the playoffs in the Western Conference weren't a realistic expectation and I think everybody involved knew it. They wanted to flesh out just how important their young core is, after allowing big men Paul Millsap and Al Jefferson to go in free agency last summer. They left themselves with a few players they needed to learn more about while giving themselves a lot of options for how to restructure this team.
The biggest thing that went wrong in this team being competitive right away was the injury to Trey Burke, which delayed his NBA debut long enough to make this team look like a laughing stock early on. Without Burke at the point learning on the job right away, they relied on Jamaal Tinsley and John Lucas III to carry the point guard load early on and it was a disaster. The Jazz lost their first eight games of the season and 14 of their first 15. 
Their issues were simple this year: they couldn't defend anybody (29th in the NBA as of Sunday, March 16) and they were sloppy shooting and protecting the ball (22nd in true shooting percentage, 24th in assist to turnover ratio). But it was part of the rebuilding learning curve in which they had to find out who belongs with this team long-term and who probably can be used in a trade for an upgrade at some point.
Bright spots: This team does have quite a bit of talent, that if molded could be a very nice core of complementary pieces. They just need to find the main piece(s) to have them complement. When Trey Burke returned from his broken finger injury, this team became competitive pretty quickly. Through the first 15 games of the season, the Jazz were 1-14 with an offensive rating of 92.3, a defensive rating of 106.4, and a net rating of minus-14.1. Once he returned, the defense got much worse (Burke seriously made Kendall Marshall look like MVP Steve Nash one game) but the scoring and competitiveness of the team increased immensely. 
The Jazz are 21-30 since his return, which isn't exactly blowing anybody's socks off but it does show this team is pretty tough to eliminate most nights. Their offense has improved to 103.0 points per 100 possessions, their defense dropped to 108.4, and their net rating improved to a much more tolerable minus-5.4. A big part of Burke's return was getting Gordon Hayward a little break from having to create everything for the team. With another ball handler and shot-creator, defenses couldn't just key in on Hayward. His playmaking went up and his shooting percentages ticked up a bit after Burke returned. Most importantly, the team wasn't a pushover anymore.
Alec Burks has emerged as a really nice scorer off the bench and is currently second on the team in points per game with 13.8. Richard Jefferson (42.1 percent) and Marvin Williams (37. percent) were great floor-spacers from behind the 3-point line. Jeremy Evans finally got some consistent minutes off the bench (18.8 per game) for the first time in his career and put up per-36 numbers of 12.6 points and 9.8 rebounds. 
2013-14 MVP: Gordon Hayward.
It's a good thing too because Hayward is up for some serious contract negotiations this summer in restricted free agency. His shooting accuracy dipped quite a bit as the first option on offense, as opposed to the third option last season. He put up career lows in field goal percentage (40.7 percent) and 3-point percentage (31.3 percent), while all of the advanced stats saw a dip in production and effectiveness. But in terms of adjusting to the league treating him as the top guy on the team, he did a good job. He took on more playmaking responsibility and had averages of 15.8 points, 5.3 rebounds, and 5.5 assists. 
He was one of five players in the NBA this season to put up averages of at least 15 points, five rebounds, and five assists.
2013-14 LVP: Derrick Favors.
Favors signed a four-year extension worth roughly $49 million before this season started, putting a lot of expectations on him taking the next step as a big man in this league. His averages are fine. In 29.9 minutes per game, he averaged 12.8 points, 8.6 rebounds, and 1.4 blocks. He made over 50 percent of his shots and had the highest PER of his career. But this team was horrendous with him on the court. It's like he couldn't impact them in a positive way all season long.
It's not that he was bad; he was just extremely disappointing because they're asking him to be the anchor of this team and instead, he just sunk them. They were worse on offense with him on the court by nearly a full point per 100 possessions, and they were horrendously worse on defense with him in the game by 2.5 points. He needs a much better season in the first year of that new shiny contract.
What's ahead this summer for the Jazz: Time to make a lot of decisions.
As of right now, it looks like the Jazz will have a top seven pick in the draft, barring any crazy end-of-season tanking efforts by other teams or lottery night insanity. They'll also have the Golden State Warriors' first round pick and their own second round pick available too. In a loaded draft, they have the potential to add a franchise guy to insert into this core, a big-time role player, and someone who can crack the rotation, all before free agency starts.
Once free agency starts, this team has close to carte blanche in terms of restructuring the roster. They're going to clear $25.5 million off their salary cap with the expiring deals of Andris Biedrins, Richard Jefferson, Marvin Williams, and Brandon Rush. Overall, they'll have nearly $30 million in cap space, but you can shave $8.6 million off due to Hayward's restricted free agency cap hold. Even if they end up having to pay Hayward around $12-14 million as a starting salary next season (assuming they match any offer sheet), the Jazz will still have a lot of cap space to add players via free agency or in trades.
They currently have Favors, Enes Kanter, Burke, Burks, Evans, and Rudy Gobert as players definitely under contract for next season. They can go a myriad of ways to expand the core of the roster or trade assets to change it. 
The Jazz will also have a coaching decision to make. It looks like they may have made a mistake by not finding a way to make Jeff Hornacek, former player and assistant for the Jazz, the next head coach now that he's in Phoenix. Tyrone Corbin's deal with the organization is up after this year and it's very likely they move in a different direction if they feel they can start winning next season.
Kidd was fired by the Bucks on Monday afternoon

We've got all the scores, highlights and news from an NBA Monday

Leonard was recently shut down again to rehab the nagging quad injury
Durant, who joined the Warriors, says that Capela, the league's most efficient player, has...

Jason Kidd's firing gets the celebratory balloon treatment on Milwaukee's Twitter page

Milwaukee has parted ways with its coach in the middle of his fourth season