Seattle City Council approves arena deal
The first step has been taken on a very long journey back to the NBA for the city of Seattle. But it's a big, big step.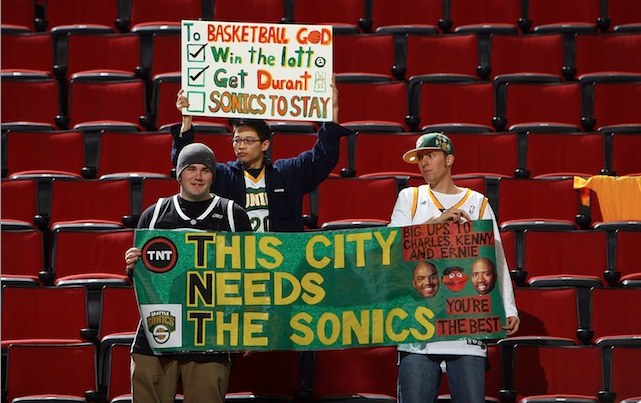 Seattle's getting warmer.
(Getty Images)
The first step has been taken on a very long journey back to the NBA for the city of Seattle.
But it's a big, big step.
Via the AP, the Seattle City Council approved a plan for a new arena.
Council members voted 6-2 to approve investor Chris Hansen's plan for a $490 million arena near the Seahawks and Mariners stadiums south of downtown. The plan calls for $200 million in public investment, and Hansen has personally guaranteed to cover the city's debt if the arena's finances don't work out. The arena could also house an NHL team.

Changes in the plan still must be approved by the King County Council, and it must pass an environmental review. But Hansen says city approval allows him to shop for a team that would replace the SuperSonics.
Two things:
1) That doesn't mean the arena is being built tomorrow. There are still things to finish up and it's a process to get an arena constructed.
2) That doesn't mean an NBA team is moving to Seattle tomorrow. Or even ever, actually. The arena was the first hurdle to jump and the reason the team abandoned the city in the first place. But in order to house an NBA franchise, Seattle will have to play hypocrite and remove someone else's team. Because the NBA isn't going to be expanding any time soon.
Still, with the ugly mess that was the Sonics' move to Oklahoma City, the NBA would be wise to do its best to return a team to the Pacific Northwest. The NBA is better off with a team in Seattle.
It's not exactly a case of "if you build it they will come," as much as "you better build it if you want to ever have a shot." And the city is well on its way.
There could very well be teams on the horizon that would consider relocating too. Of course there are the Kings, who are battling their own arena issues. That would be a very messy ordeal considering Seattle would be putting Sacramento through the exact same thing they complained so much about. There are the Bobcats, who are still struggling to find a foothold in Charlotte.
If you see Chris Hansen as a prospective buyer for either one, you'll know what's up.
Among the questionable decisions by Jackson was signing Noah to a long-term, lucrative dea...

This Akron store doesn't want their hometown hero to leave again

Milwaukee's star did not get cleared to play for his national team due to a painful knee i...
Ball, the second overall pick in the NBA Draft, is receiving even more hype

Rap mogul supports the vision the outspoken father has for his brand and sons

Deciding who to watch on League Pass can be difficult, but these rankings promise to help