Seeding the new-look Eastern Conference teams, playoff style
LeBron James going to Cleveland changes everything in the East.
• 3 min read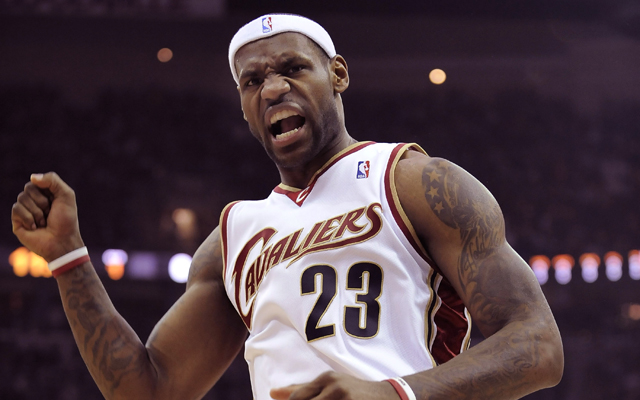 More Offseason Analysis: Coaching changes, news | Free Agency | Draft
LeBron James ' decision to go home to Cleveland shifted the Eastern Conference's balance of power. Miami is now in the middle of the pack rather than the consensus choice for No. 1, and the Cavs are the single most intriguing team in the NBA. There's plenty of offseason left, but here's an (extremely) early look at how the teams stack up.
1. Cleveland Cavaliers
This is what signing LeBron James does, and if the Cavs can acquire Kevin Love, they might be championship favorites. Let's forget Love for now, though, and just assume James' presence will attract a veteran shooter or two. New head coach David Blatt is considered an offensive genius, and he'll now have all the options in the world at his disposal. James and Anderson Varejao will have to cover up for a lot of their teammates' mistakes on defense, but an elite offense, a pretty good defense and the best player in the world could be enough to make it to the finals.
2. Indiana Pacers
After a chaotic 2013-2014 season, no one outside of Indiana is excited about this team. I'm not even sure how the Pacers' fans feel about them. There's still a lot of proven talent here, though, and Indiana added much-needed shooting in C.J. Miles and Damjan Rudez in free agency. As long as Lance Stephenson re-signs, the Pacers should still be taken seriously. They do really need Stephenson back, though, so this is a risky ranking.
3. Toronto Raptors
Credit Toronto general manager Masai Ujiri for re-signing his free agents and adding depth early in free agency. The Raptors will bring back their entire young, improving core, and offseason additions James Johnson and Lou Williams will give their bench a boost. As long as Terrence Ross and Jonas Valanciunas develop as expected, this is probably the most well-rounded team in the East.
4. Chicago Bulls
Some saw the Bulls as the favorites last year with a healthy Derrick Rose , and if he is able to return to his dominant form then there's an argument they should be looked at that way again. Rose has been injured for so long that it's easy to forget how much of a game-changer he is for a team that's already incredible defensively. If they acquire Pau Gasol as expected, he'll help put points on the board. Rookie Doug McDermott will, too. Shame they couldn't get Carmelo Anthony , though.
5. Miami Heat
You don't just replace LeBron James. Luol Deng is about as good of a starting small forward as Miami could have hoped to acquire, but the Heat will have to redefine themselves. Fortunately, they have a head coach who has overhauled everything before. Miami might adjust its defense as much as its offense, and it'll be interesting to see if Pat Riley tries to bring in some frontcourt help for Chris Bosh , who's suddenly going to have to do a lot more with the ball.
6. Atlanta Hawks
No one really talks about the Hawks, but they were the third-best team in the East before Al Horford got hurt and it shouldn't surprise anybody if they're fighting for that position again. Rookie Adreian Payne and free agent acquisition Thabo Sefolosha can fit right in and play both ends, and they have significant salary cap room to add another key piece. Let's say Atlanta gets Deng -- who would want to face this team in the playoffs?
7. Washington Wizards
Seventh seems low for a team that wasn't far from the conference finals last season, and this speaks to how little separation there is in the East following James' departure. Washington should be solid again, but they just reportedly lost  Trevor Ariza and they'll be thin on the wing because of Martell Webster 's back surgery. Early Sunday they added veteran Paul Pierce to bolster their small forward situation. Things are looking pretty good for the Wizards, who hope to have a full season of Bradley Beal playing like he did in the playoffs.
8. Charlotte Hornets
Losing Josh McRoberts hurts, and now the Hornets have to hope sophomore  Cody Zeller improves and rookie Noah Vonleh can contribute as a reserve. That's not too much to ask, but Charlotte could still use some more help offensively. Gordon Hayward would fit in perfectly, but the Utah Jazz matched the offer sheet. As it stands, the Hornets are a fringe playoff team. Signing Stephenson would make them a lock.
Apologies to: The Brooklyn Nets , New York Knicks and Detroit Pistons . If Lionel Hollins can integrate Brook Lopez into a good defensive scheme, they're probably still a playoff team. It's just uncertain what will happen there now that Paul Pierce is gone and we don't know if Kevin Garnett can hold up for another year. New York and Detroit could both see returns to relevance led by Phil Jackson and Stan Van Gundy, respectively, but both bosses still have work to do.
Among the questionable decisions by Jackson was signing Noah to a long-term, lucrative dea...

This Akron store doesn't want their hometown hero to leave again

Milwaukee's star did not get cleared to play for his national team due to a painful knee i...
Ball, the second overall pick in the NBA Draft, is receiving even more hype

Rap mogul supports the vision the outspoken father has for his brand and sons

Deciding who to watch on League Pass can be difficult, but these rankings promise to help