Serge Ibaka hasn't practiced but did work with training staff
Oklahoma City Thunder big man Serge Ibaka has not practiced with the team yet but did work with the Thunder's training staff.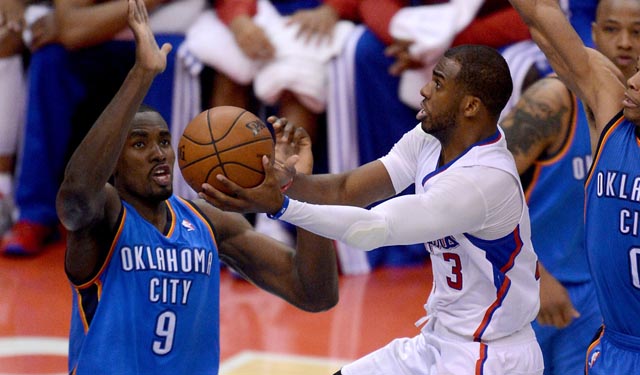 More postseason coverage: Playoff schedule, results | Latest news, notes
As we wait to find out whether Serge Ibaka will be able to play for the Oklahoma City Thunder in the Western Conference Finals, we probably need to see whether he'll practice with the team. Ibaka was ruled out of the rest of the playoffs before Game 1 against the San Antonio Spurs with a calf injury, but there have been rumors of him possibly returning sometime in the next couple games.
As of Saturday when the Thunder addressed the media, Ibaka hadn't practiced. However, he did some work with the OKC training staff and is officially day-to-day with his calf injury. There's a possibility he'll return Sunday night when the Thunder host the Spurs and look to avoid an 0-3 hole. From Daily Thunder:
Ibaka said he has not practiced or even run yet, but confirmed he remains day-to-day with his calf strain.

"Right now I'm waiting for the team doctor to confirm, and also it's depending on whether I will go tomorrow, day by day, and see," he said. "I'm waiting what the doctor going to tell me and how my body going to feel. So day by day, let's see how I'm going to wake up tomorrow."

One interesting thing Ibaka said, though, was that he wasn't as much concerned with the risk of re-injury or a full tear, as much as it's about pain tolerance.
Ibaka has had a profound impact on the floor against the Spurs over the past couple seasons, turning them away at the rim and making the Thunder's athletic advantage very hard for the Spurs to overcome. But without him on the floor in Game 1 and Game 2, San Antonio has had its way offensively with the Thunder.
We won't know about Ibaka's status until right before game time, but Scott Brooks did say he was thinking about a possible lineup change. Hopefully, that will involve Ibaka being healthy enough to play.
The former Clipper apparently had some tricks up his sleeve after a chippy game

The Rockets were apparently looking for Austin Rivers and Blake Griffin after a chippy gam...

If they don't meet in the Finals again, let's appreciate every one of the 27 matchups since...
D-Wade picked up the steal and got creative on the fast break as the Cavs headed into half...

Despite the embarrassing hiccup, the youngest Ball had himself a pretty great day on the c...

The players were both ejected in the closing seconds, then continued their discussion off the...