Serge Ibaka says LeBron James is not a good defender
Oklahoma City's Serge Ibaka says that LeBron James is not a good defender, and that he can't guard Kevin Durant.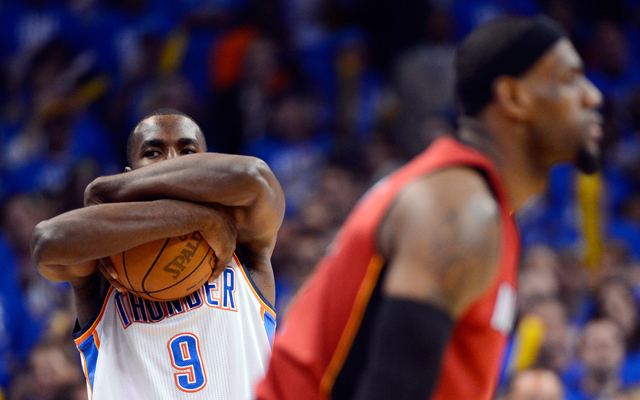 Maybe Serge Ibaka thinks LeBron James isn't a good defender because he doesn't block enough shots.
(Getty Images)
Something something pot, something something kettle. 
Serge Ibaka threw some rundown at LeBron James on Monday, saying that the reigning MVP is "not a good defender." OK... From the Palm Beach Post: 
"LeBron is not a good defender," Ibaka said about the player who received the most votes for the league's all-defensive team, which is selected by the coaches.

"He can play defense for two to three minutes but not 48 minutes."

"LeBron can't play (Durant) one-on-one," Ibaka said. "They're playing good defense like a team."
via Thunder's Serge Ibaka says Miami Heat's LeBron James is 'not a... | www.palmbeachpost.com.
It's entirely possible this is a language barrier or some sort of misunderstanding, taken out of context. It's possible he was specifically referring to James' ability to guard Kevin Durant specifically. He'd be right there, because there isn't a "good" defender for Kevin Durant on the planet. KD's just that good. 
If it's on point with how Ibaka feels, however...
Man, is that stupid.
For starters, objectively, James is a elite defender. I'm not talking chasedown blocks. I'm talking positioning, his ability to body without fouling, his trust in help defenders which helps him to not foul when his man beats him on the perimeter (the biggest reason he doesn't accumulate fouls, much to opposing fans' chagrin, and not some vast conspiracy), his active hands and constant contest. James overwhelms you with aggressive defense without moving himself out of position or gambling. 
Second, he did an absolutley superb job on Durant in Game 3. Particularly late, for more than 2-3 minutes, he moved Durant out of his comfort spots for the catch, forcing Russell Westbrook into late-shot-clock isolation plays. 
Third, Ibaka needs to not be calling that kettle black, because he's distinctly pot-shaped. Ibaka won Defensive Player of the Year Runner-Up, apparently because video assistants around the league only caught his weakside shot-blocking talents. Ibaka is an elite shot blocker. I'd argue he actually has better timing on blocking shots than Dwight Howard, who has the added benefit of size. If blocks were all defense entails, Ibaka would be the DPOY this year. 
It's not. 
Ibaka gets caught off his rotation several times a game, and when he does, it almost always leads to a wide-open dunk for Chris Bosh or another cutter. He loses his man trying to chase down those drives, which has allowed for Chris Bosh to stay active on the offensive glass. 
Now, Ibaka's had some stretches where he's been dominant, and those blocks do help your team, especially when he's blocking them to a teammate to start the break as he has three times in this series alone. 
But he's nowhere near James in terms of his overall defensive ability. No one can guard Kevin Durant. He's too good at hitting contested mid-range jumpers, the lowest percentage shot you can force. He's the best scorer in basketball. But if anyone could? 
LeBron James could. And did, in a crucial stretch in Game 3.
The Warriors used a huge third quarter to come back from a 23-point deficit to get the win

Three takeaways from Golden State's 24-point rally past the Sixers

Okafor has played only 25 minutes this season
Capela's shoe slipped off, and was sitting near the free throw line

The Magic will instead play in the Las Vegas Summer League

Ball walked away from an altercation between the Lakers and Suns on Friday night