Serge Ibaka will miss remainder of playoffs with calf strain
The Oklahoma City Thunder announced on Friday that Serge Ibaka would miss the remainder of the postseason.
• 1 min read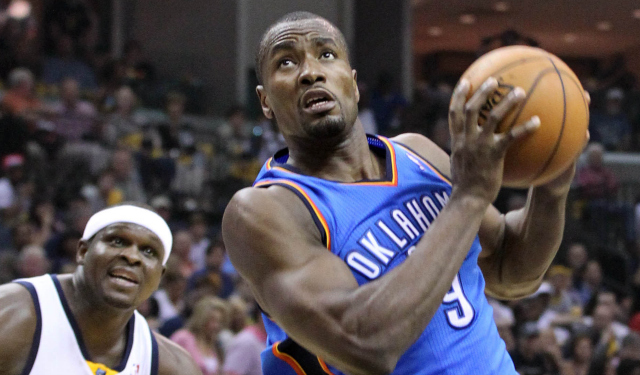 More postseason coverage: Playoff schedule, results | Latest news, notes
UPDATE: In a conference call, Thunder GM Sam Presti elaborated on the injury:
Presti said the injury is a Grade 2 strain. It's an area of the calf called the plantaris.

— Darnell Mayberry (@DarnellMayberry) May 16, 2014
Presti: "The recovery process is lengthy because the re-injury risk is exceptionally high."

— Darnell Mayberry (@DarnellMayberry) May 16, 2014
Presti: "It will be unlikely that he would return if we were fortunate to make it past this next series."

— Darnell Mayberry (@DarnellMayberry) May 16, 2014
---
Oklahoma City Thunder big man Serge Ibaka is expected to miss the rest of the playoffs due to a left calf injury suffered in Game 6 of their second-round series against the Los Angeles Clippers, the team announced on Friday.
"We are obviously disappointed for Serge, as he is a tremendous competitor, and we know how badly he wants to be on the court with his teammates," Oklahoma City general manager Sam Presti said in a statement. "At this point it is important that our team directs its concentration and energy towards preparation and execution for our upcoming series. As with all teams, our group has confronted different challenges. It is our collective experience that we will call on to ensure that we play to our capabilities."
This is a huge blow to the Thunder's chances against the San Antonio Spurs in the Western Conference Finals. Ibaka is their third-best player and he averaged 15.1 points, 8.8 rebounds and 2.7 blocks during the regular season. Reserve big men Nick Collison and Steven Adams will have to shoulder a bigger load in his absence.
Leonard's relationship with Spurs also reportedly strained because of how injury has been...

San Antonio hasn't missed the playoffs in 20 years, but the road is rocky this season

Last year's MVP finalist has missed all but nine games this season
The design for the patch is still being worked on

The explosive forward and upcoming free agent is having a career year

Cuban said on Dr. J's podcast that losing is Dallas' 'best option'